October 2012 Newsletter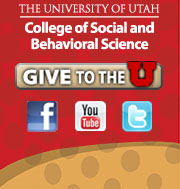 CSBS Hosts Tailgate Event

You're invited! The CSBS Student Ambassadors are hosting a tailgate this Thursday, October 4th for the Utah VS USC game. Whether you're a student, faculty/staff, or alumni, join us for food, games, and live music. All proceeds from the event will go directly into the CSBS Connections Scholarship Fund. Register now.
COLLEGE KUDOS

Pamela Schaefer Wins District Staff Excellence Award
Military Science's Pamela Schaefer was one of six Academic Affairs employees to receive the 2012 District Staff Excellence Award. Schaefer received a cash prize of $300 and was nominated with a group of 24 others for the $5,000 University Staff Excellence Award.
Jim Curry Receives the E.E. Schattschneider Award
Jim Curry, an assistant professor in political science, was this year's recipient of the E.E. Schattschneider Award given by the American Political Science Association. This award is given for the best doctoral dissertation in the field of American government. Curry's dissertation was called: "Information Control: Leadership Power in the House of Representatives."
Psychology Student Collects First Place for Research Paper
Psychology student and CSBS Student Ambassador Andrew Choi was awarded first place for his research paper on Examining off-task behaviors as regulatory mediators of long-term interest and performance online. Choi will receive $1,000 and will also be published in Eye on Psi Chi, a magazine that is published by the International Honor Society of Psychology.
Dan McCool Discusses Rivers on the Rise
After 10 years of research and observation, political science professor and director of the environmental and sustainability studies program Daniel McCool published his book, River Republic: The Fall and Rise of America's Rivers. In the book, McCool confirms news that America's rivers are making a comeback.
Geography Program Receives USGIF Accreditation

Geography's Geospatial Intelligence Certificate Program, nicknamed GEOINT, recently became the newest program to be accredited by the United States Geospatial Intelligence Foundation. It joins six other programs including those at George Mason University, PennsylvaniaState University, University of Missouri-Columbia, the U.S. Air Force Academy, the U.S. Military Academy at West Point, and the University of Texas at Dallas. More information.
Psychopathy Leads to Reduced Sentencing

According to a new study conducted by psychology associate professor Lisa Aspinwall, when criminal behavior is caused by biology, judges tend to reduce the sentence by a year on average. The study, which consisted of 181 judges from 19 different states, suggested that when they are given evidence of biomechanical causes of psychopathy, there were major changes in the quality of their reasoning behind sentencing. Read more.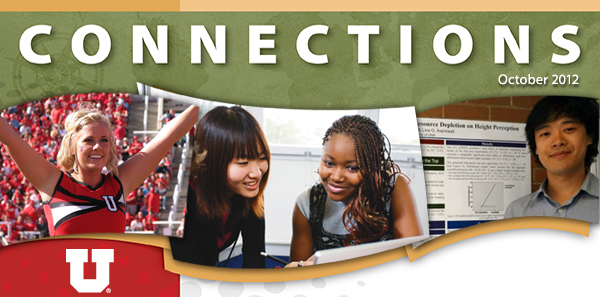 A Campaign for our Students
As many of you know and have experienced firsthand, the cost of higher education, both public and private, has escalated dramatically over the last decade. Please join me in the 2012-2013 College of Social and Behavioral Science Scholarship Campaign. We currently award approximately $200,000 annually in scholarship support. Our goal is to reach $500,000 for the 2013-2014 academic year. More of this message
---
Internships Create Connections Between Classrooms and Careers
146. That's the number of CSBS interns this semester. Students have taken part in various internships including the University of Utah Neuropsychiatric Institute, the Substance Abuse and Mental Health Services Administration, and many others. The program's objective of connecting classrooms to careers has proven both essential and invaluable for students, companies, and organizations. Watch graduate student Brent Collins as he discusses his personal success in landing an internship at Questar through the program. For more information on how you too can get involved, click here.
---
Students Gain Experience with UROP
The College of Social and Behavioral Science has always prided itself on its cutting-edge research—not only from faculty, but students as well. These students, who come from various departments within the college, participate in the Undergraduate Research Opportunities Program (UROP), which provides them the opportunity to work with faculty members on research or creative projects. Read more.
---
CSBS Student Ambassadors
The 2012-2013 CSBS student ambassador team has kicked off the new school year with a bang. As a yearly tradition, they participated in the Legacy of Lowell Service Day, hosted by the University's Bennion Center, and recruited other students to join in the cause. Now they've set their sights on hosting a tailgate in early October as well as a Halloween-inspired get together. Learn more about each of our student ambassadors.
---

DIGIT Lab and BEBR Answer Utah's Call for New Technology
With the discontinuation of the Census long form in 2010, Geography's Digitally Integrated Geographic Information Technology (DIGIT) Laboratory and the Bureau of Economic Business and Research (BEBR) from the business school have been working in a collaborative effort to build an online system that will serve as a portal for a variety of community-level demographic, housing, and socioeconomic estimates, data sets, and other products. This system, known as the Utah Community Data Project, could mean great things across a number of fronts for the state of Utah. Read more.
---
Professors Talk Politics
This election year has got everyone talking, including a few of our very own political science professors. See what Burbank, Chambless, Johnston, and Jowers are saying to the local media.
---
Anthropologist Examines Impact of Peace in New Guinea
Anthropology professor Polly Wiessner has been featured in various publications for her study on peace in Papua New Guinea. After 20 years of intense warfare, the Enga people seek to bring peace through their traditional tribal courts. Read the article in Science News.
---

Wikipedia and U
U students are writing for Wikipedia? It's true. Economics professor Gunseli Berik has her graduate students not only write papers for a grade, but also for the popular web-encyclopedia. Read more.

---

Social Circles Prove Beneficial To Health
Can having a large social circle affect a person's blood pressure? A study conducted by psychology professor Bert Uchino suggests that it can. Read more about how social circles have positive effects on a person's overall well being.
---

Students Paint the Park for Service Day
The CSBS Student Ambassadors recruited over 40 volunteers for the 2012 Legacy of Lowell Student Service Day. Together they painted over 500 square feet and removed 150 gallons of invasive species from the park. Watch the video to see some of the events of that day.
---

Steven Lobell and The Challenge of Grand Strategy
Political science professor Steven Lobell recently published The Challenge of Grand Strategy: The Great Powers and the Broken Balance Between the World Wars. It argues that in retrospect, the policies that were pursued in times of war were rational attempts to secure national interests under a great deal of uncertainty. Learn more.