The College of Social & Behavioral Science (CSBS) Ambassador program is a diverse group of individuals who are passionate about their studies in CSBS and want to share that passion by connecting with prospective and current students, alumni and donors both in person and through social media. Ambassadors attend and help with campus projects to spread the word about majors and opportunities in CSBS.
Earn a scholarship for working with CSBS!
Stipend of $500 for Fall semester and $500 for Spring semester toward tuition based on experiential learning. Additional funding available for ambassadors who also help during the summer semester (optional).
#bethesolution and Be an Ambassador!
Must be a degree-seeking undergraduate student
Must be registered for courses (full or part-time) in Fall and Spring semester (students graduating in fall semester are not eligible - must have a full year left)
Must be in good academic and disciplinary standards with the University of Utah
Be a declared major in the College of Social & Behavioral Science
Time Commitment
Required minimum 60 hours for Fall semester and 60 hours for spring semester
Time commitment is dictated by events during the Fall and Spring semesters (evening and weekend events expected as well)
New Student Orientations during June and July provides an additional stipend towards tuition (optional)
CSBS Ambassador Team Meetings
Fall Semester Retreat
Saturday before the 1st week of school for the fall semester
Spring Semester Social
Near end of Spring semester (based on schedule)
Duties:
Representing the University of Utah and the College of Social & Behavioral Science (CSBS) at recruitment and campus events
Planning, promoting and increasing involvement in student events and opportunities
Providing feedback on university, college and department initiatives
Participating in occasional photo shoots for promotional materials for the College of Social & Behavioral Science
Information sharing with prospective students and parents (in person and through email and social media) relating to the University of Utah and the College of Social & Behavioral Science's academic programs, faculty, physical facilities, social opportunities and student services
Attending required monthly meetings
Using CSBS social media by taking pictures, using Instagram and Facebook stories and contributing to posts in order to share information widely
Attending special alumni events such as: dean's distinguished speaker series, scholarship receptions and award ceremonies
Meeting with alumni and donors to help secure gifts that support student scholarships
Overall, demonstrating sincerity, enthusiasm, credibility, interested and helpfulness in all aspects of the Student Ambassador position
Application Cycle for Fall 2023-Spring 2024 Ambassadors:
Applications Open – November 1st, 2022
Applications Close – January 31st, 2023 at 11:59pm
Interviews for selected candidates – February 13th – 24th 2023
Selection Notification Date – March 1st, 2023
New Ambassador Welcome – Friday March 17th, 2023 from 1-2:30pm
2022-2023 Applications
Ambassador Application

Questions? Contact a program coordinator today!
Ally Marringa – Program Coordinator ally.marringa@csbs.utah.edu
Mackenzie Ahanonu – Assistant Program Coordinator Mackenzie.ahanonu@utah.edu
Meet our 2022-2023 Ambassadors
Thandiwe Msiska
LEAD AMBASSADOR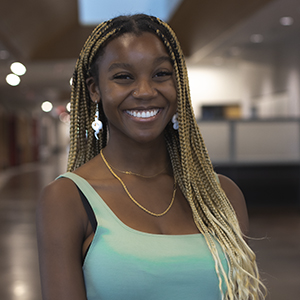 Class of 2023
Majors: Mechanical Engineering (Aerospace Emphasis); Health, Society, & Policy
Hometown: South Jordan, UT (Indiana Hoosier at heart though!)
Fun Fact: I am allergic to avocados :(
What inspires you to #bethesolution?: Michael, Eric, Philando, Tamir, Rekia, Alton, Patrick, Laquan, Walter, Sandra, Trayvon, Patrick, Eric Logan, Botham, Atatiana, Freddie, Pamela, Jamela, Julius, Lorenzo, Maurice, Johnathan, Danny, Stephon, Jordan, Alfred, Keith, Terence, Akiel, Gregory, Quintonio, DeJuan, Mario, Jamar, Christian, Samuel, Brendon, & Walter
Callie Avondet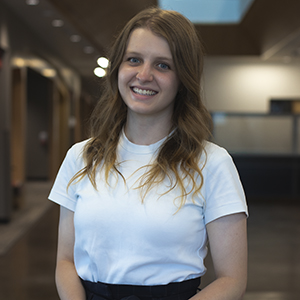 Class of 2024
Majors: Sociology and History
Minors: Political Science
Hometown: Highland, UT

Fun Fact: I speak Haitian Creole fluently.
What inspires you to #bethesolution?: "Education is the most powerful weapon which you can use to change the world"-Nelson Mandela Historically and today, students have been a powerful force for societal change. From March for our Lives to the Greensboro Sit-Ins to the 1968 LA Walkouts, students show that they are powerful and active members of society as students. But most schools are not supporting students the way they should, especially students of color. These student activists and more, and gaping educational inequalities inspire me to #bethesolution.
Maya Awada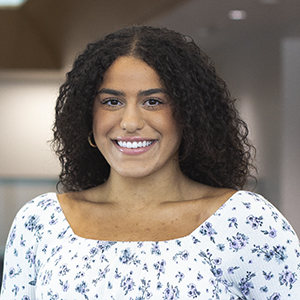 Class of 2023
Majors: Psychology
Minors: Arabic
Hometown: Logan, UT

Fun Fact: I love doing puzzles!
What inspires you to #bethesolution?: What inspires me to #betthesolution is my dad. He has always encouraged me to pursue my dreams just as he did. He has taught me to always be selfless, strong and brave enough to know that living is determined not so much by what life brings to you as by the attitude you bring to life; not so much by what happens to you as by the way your mind looks at what happens. I love you baba!
MatThew Horn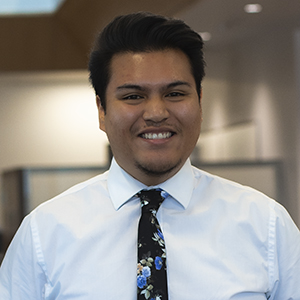 Class of 2023
Majors: Health, Society & Policy and Family, Community & Human Development
Hometown: West Valley City, UT

Fun Fact: I love to bake!
What inspires you to #bethesolution?: What inspires you to #bethesolution? As a first-generation student to refugee parents, I realize the amazing privileges that I have been given. I have the opportunity to learn, have a voice, and make a change: things that a lot of people unfortunately do not have. I hope to further my parents' aspirations, make a mark in society, and to pave a better future.
Jimmy Gomez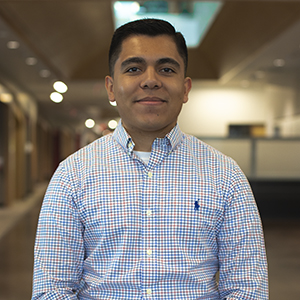 Class of 2024
Majors:Political Science with an emphasis in International Politics
Hometown: Sandy, UT

Fun Fact: I am a HUGE Formula 1 fan!
What inspires you to #bethesolution?: My inspiration comes from the perseverance and resilience that my parents have shown throughout my life. As a first-generation college student, I understand the difficulties of finding the path that is meant for you. I want to #bethesolution, by lending a helping hand to all who need it, just like others have done for me. As a CSBS ambassador I intend to try my hardest, to guarantee that everyone has a space and opportunity to be heard.
Tan Le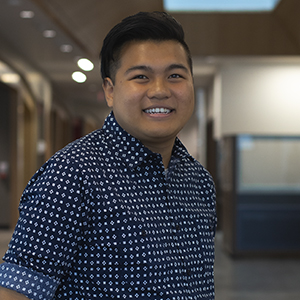 Class of 2023
Majors: Health, Society & Policy and International Studies with a focus in Global Health
Minors: Health Communication Certificate
Hometown: West Valley City, UT

Fun Fact: The most spontaneous thing I've done was book a trip to Switzerland based on a dating app question
What inspires you to #bethesolution?: I am inspired to #bethesolution in healthcare from the experiences I've had in a low socioeconomic status. The inequities that exist within our healthcare system are exacerbated for people who don't have the ability to access a renowned healthcare service. Therefore, my passions reflect a sense of hope to improve upon the inadequacies and weaknesses that leave our most vulnerable behind. Above all, this dream not only addresses the patient but recognizes the self-sacrificing healthcare workers that are quintessential to all services rendered. I hope to be able to mend the bonds between the system, patients, and healthcare workers that have been disrupted by dishonorable profiteering practices and inequitable standards. I strongly believe that the pursuit of better healthcare can be attained not through big leaps, but by the small steps of many.
Audrey Meyer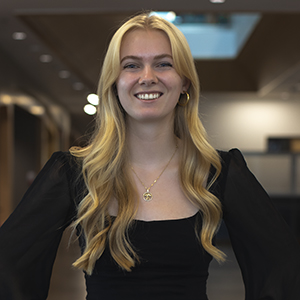 Class of 2023
Majors: Political Science
Minors: Philosophy
Hometown: McCall, Idaho

Fun Fact: I'm a huge James Bond fan and (coincidentally) ran into Pierce Brosnan in Hawaii while looking at seals
What inspires you to #bethesolution?:I'm inspired to #bethesolution by the countless women, whistleblowers and activists who came before me that sacrificed their privilege and chose to do the right thing to better the world when it would've been easier to stay silent and maintain the status quo.
Carrie Thompson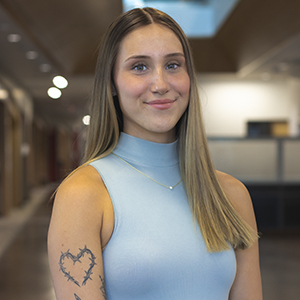 Class of 2024
Majors: Psychology and Criminology
Hometown: Fullerton, California

Fun Fact: A fun fact about me is I have 26 tattoos currently and I plan to get many more!
What inspires you to #bethesolution?: Something that inspires me to #bethesolution is my younger brother. I want to help create a better world for him and the future generations to follow. I try to lead by example for him and the younger people I interact with by being a team player, pursuing degrees that can help me implement positive world change, and giving a helping hand anywhere I can.
Alex Turner


Class of 2024
Majors:Economics and Environmental & Sustainability Studies with an emphasis in Conservation & Land Management
Minors: Urban Ecology
Hometown: El Segundo, California

Fun Fact: I work with the Edible Campus Gardens where my favorite thing to grow (and eat) are tomatoes!
What inspires you to #bethesolution?:Resilient communities are made through collaboration and contributions from a diverse set of perspectives. I believe the formulation of comprehensive solutions requires input from as many backgrounds as possible, and am inspired by the potential of a new generation of leaders who prioritize inclusivity, diversity, and creativity that will support a more compassionate and comfortable world for all.

Other Ambassador Teams
2021-2022 Student Ambassador Team | 2020-2021 Student Ambassador Team | 2019-2020 Student Ambassador Team | 2018-2019 Student Ambassador Team | 2017-2018 Student Ambassador Team | 2016-2017 Student Ambassador Team |
2015-2016 Student Ambassador Team