The College of Social & Behavioral Science (CSBS) Ambassador program is a diverse group of individuals who are passionate about their studies in CSBS and want to share that passion by connecting with prospective and current students, alumni and donors both in person and through social media. Ambassadors attend and help with campus projects to spread the word about majors and opportunities in CSBS.
Earn a scholarship for working with CSBS!
Stipend of $500 for Fall semester and $500 for Spring semester toward tuition based on experiential learning. Additional funding available for ambassadors who also help during the summer semester (optional).
#bethesolution and Be an Ambassador!
Must be a degree-seeking undergraduate student
Must be registered for courses (full or part-time) in Fall and Spring semester (students graduating in fall semester are not eligible - must have a full year left)
Must be in good academic and disciplinary standards with the University of Utah
Be a declared major in the College of Social & Behavioral Science
Time Commitment
Required minimum 60 hours for Fall semester and 60 hours for spring semester
Time commitment is dictated by events during the Fall and Spring semesters (evening and weekend events expected as well)
New Student Orientations during June and July provides an additional stipend towards tuition (optional)
CSBS Ambassador Team Meetings
Fall Semester Retreat
Saturday before the 1st week of school for the fall semester
Spring Semester Social
Near end of Spring semester (based on schedule)
Duties:
Representing the University of Utah and the College of Social & Behavioral Science (CSBS) at recruitment and campus events
Planning, promoting and increasing involvement in student events and opportunities
Providing feedback on university, college and department initiatives
Participating in occasional photo shoots for promotional materials for the College of Social & Behavioral Science
Information sharing with prospective students and parents (in person and through email and social media) relating to the University of Utah and the College of Social & Behavioral Science's academic programs, faculty, physical facilities, social opportunities and student services
Attending required monthly meetings
Using CSBS social media by taking pictures, using Instagram and Facebook stories and contributing to posts in order to share information widely
Attending special alumni events such as: dean's distinguished speaker series, scholarship receptions and award ceremonies
Meeting with alumni and donors to help secure gifts that support student scholarships
Overall, demonstrating sincerity, enthusiasm, credibility, interested and helpfulness in all aspects of the Student Ambassador position
Application Cycle for Fall 2023-Spring 2024 Ambassadors:
Applications Open – November 1st, 2023
Applications Close – January 31st, 2024 at 11:59pm
Interviews for selected candidates – February 13th – 22th 2024
Selection Notification Date – February 26th, 2024
2023-2024 Applications
Ambassador Application

Questions? Contact a program coordinator today!
Ally Marringa – Program Coordinator ally.marringa@csbs.utah.edu
Mackenzie Ahanonu – Assistant Program Coordinator Mackenzie.ahanonu@utah.edu
Meet our 2023-2024 Ambassadors
Hibba Ahmed Class of 2025
Pronouns: She/her/hers
Majors: Criminology
Minors: Strategic Communications
Hometown: Cottonwood Heights, Utah

Fun Fact: I was born in Pakistan and lived there until I was six years old.
What inspires you to #bethesolution?: As a first-generation immigrant student from Pakistan, my parents inspire me to #bethesolution. Their sacrifice, and hard work push me to pursue a higher education, and turn their dreams and my dreams into reality. My father and mother both have contributed to my ability to go to school, and gain college experience. Shoutout to my mom and dad, always. I am also motivated by the amazing and dedicating communities of Muslims and Pakistanis in Utah, and back home in Pakistan.
Jeremy Atwood Class of 2026
Pronouns: He/him/his
Majors: Major in Economics and QAMO with an emphasis in Finance
Hometown: Loveland, Colorado

Fun Fact: I love playing golf and listening to music!
What inspires you to #bethesolution?: I am inspired to #bethesolution by all of the work that people have done to lead us here today. There have been so many movements to get inspiration from and people to look up to. Whether it's something broad like the civil rights movement, the gay rights movements, or the disability rights movement, or specific people who try to create change, I am just inspired to keep learning and fighting for the things that I believe in.
Callie Avondet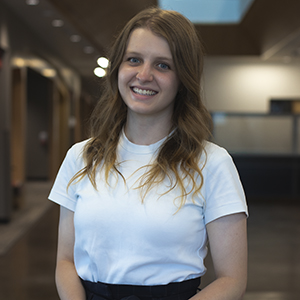 Class of 2024
Majors: Sociology and History
Minors: Political Science
Hometown: Highland, UT

Fun Fact: I speak Haitian Creole fluently.
What inspires you to #bethesolution?: "Education is the most powerful weapon which you can use to change the world"-Nelson Mandela Historically and today, students have been a powerful force for societal change. From March for our Lives to the Greensboro Sit-Ins to the 1968 LA Walkouts, students show that they are powerful and active members of society as students. But most schools are not supporting students the way they should, especially students of color. These student activists and more, and gaping educational inequalities inspire me to #bethesolution
Celine Cardeña Class of 2026
Pronouns: She/her/hers
Majors: Sociology, Certificate in Community Engaged Learning
Hometown: Logan, Utah

Fun Fact: I love a variety of music genres ranging from heavy metal to opera and much more!
What inspires you to #bethesolution?: Someone who inspires me to #bethesolution is my grandma, she taught me how to be able to educate people within my community to know their strengths. I want to be able to help build people to love themselves, and be involved.
Kara Esplin Class of 2024
Pronouns: She/her/hers
Majors: Geography | International Studies, focus in Human Rights | Peace and Conflict Studies, emphasis in Global Perspectives
Minors: Portuguese and Brazilian Studies
Hometown: North Ogden, Utah

Fun Fact: I have a pet fish named Fishtopher!
What inspires you to #bethesolution?: I work as a victim advocate, which grants me the privilege of witnessing the remarkable depths of strength and power that exist within each of us. The resilience and determination of the survivors I serve constantly inspire me, and their courage motivates me to fight for a safer and more equitable world for all individuals, particularly those from marginalized communities. Witnessing the transformative power of healing reinforces my resolve to #bethesolution.
Melody Liu Class of 2025
Pronouns: She/her/hers
Majors: Health, Society, and Policy & Pre-Nursing
Minors: Medical Humanities
Certificate: Health Communication
Hometown: Bay Area, California

Fun Fact: My superpower is sleeping. I can sleep at my desk, in my closet, on any kinds of transportation, during concerts, etc. And I sometimes turn on auto-reply and can potentially have a conversation when someone tries to talk to me while I am falling asleep.
What inspires you to #bethesolution?: I am inspired to #bethesolution in healthcare because of the education I got in college, where I learned about the social determinants of health in life, the flaws in our profitable disease care system, and the inequity that takes place in terms of quality, accessibility, and affordability. I believe that justice in healthcare is possible through many small steps which will eventually benefit the self-sacrificing providers and vulnerable patients who both deserve better, and will result in a healthier community, reducing the disparities. And I am inspired to #bethesolution in healthcare not only in a systemic sense but also on a personal level. I learned about how America is unique and beautiful in the way that there is intersectionality in identity and different perspectives on health and provider roles as well. I want to be a compassionate, open-minded health provider, equipped with cultural humility skills when I give service to others and communicate with others, so that I am able to provide better, more holistic, personalized care for diverse patient populations, increasing their experience satisfaction and health outcome.
Adamaris Martinez Class of 2024
Pronouns: She/her/hers
Majors: Health, Society & Policy and Sociology
Hometown: Salt Lake City, Utah

Fun Fact: In my free time, I rescue baby squirrels.
What inspires you to #bethesolution?: I am inspired to #bethesolution as I am passionate about the need to bring quality healthcare to our local communities who have little or no access to it. I want to show other young women that they do have the ability to follow their passion and converted determinations by actively becoming involved and understanding the power behind their voice.
Matthew McFarland Class of 2024
Pronouns: he/him/his
Majors: Major in psychology major
Minors: Criminology
Hometown: Layton, UT

Fun Fact: I've lived in 3 countries.
What inspires you to #bethesolution?: To build a better community for students and help them achieve their goals.
Maggie Mitchell Class of 2025
Pronouns: She/her/hers
Majors: Environmental Studies and Sustainability emphasis Food systems and community
Minors: Spanish
Hometown: New York, New York

Fun Fact: I care for over 20 different species of plant and enjoy learning about foraging and gardening in my spare time.
What inspires you to #bethesolution?: Community is an integral part of a sustainable future and working with their support has always been something that inspires me. As much as 'saving the planet' is a component of environmentalism, we are part of the tenants that live here and so we have to acknowledge and care for each other in order to move forward in saving the home we share. Tight knit groups are the groundwork for this and offer so much more than just surviving on our planet but also living vibrantly with each other.
Alex Turner


Class of 2024
Majors:Economics and Environmental & Sustainability Studies with an emphasis in Conservation & Land Management
Minors: Urban Ecology
Hometown: El Segundo, California

Fun Fact: I work with the Edible Campus Gardens where my favorite thing to grow (and eat) are tomatoes!
What inspires you to #bethesolution?:Resilient communities are made through collaboration and contributions from a diverse set of perspectives. I believe the formulation of comprehensive solutions requires input from as many backgrounds as possible, and am inspired by the potential of a new generation of leaders who prioritize inclusivity, diversity, and creativity that will support a more compassionate and comfortable world for all.

Past Ambassador Teams
2022-2023 Student Ambassador Team | 2021-2022 Student Ambassador Team | 2020-2021 Student Ambassador Team |
2019-2020 Student Ambassador Team | 2018-2019 Student Ambassador Team | 2017-2018 Student Ambassador Team |
2016-2017 Student Ambassador Team | 2015-2016 Student Ambassador Team