Connect with us
---
Student Research Day 2014

Over 50 CSBS undergraduates and graduates gathered in the halls of OSH on April 18 to present their research to their fellow peers and a panel of judges. Check out photos from the event.
Undergraduate Winners
Jordan Roberts (political science)
Michelle Silver (psychology)
Benjamin Unger (psychology)
Graduate Winners
Michelle Knoll (anthropology)
Shannon Boomgarden (anthropology)
Rick Haskell (economics)
Student Choice Award
Karen Vazquez and Enoabasi Etokidem (economics)
CSBS Research Cup Award
Department of Anthropology
---
CSBS Awards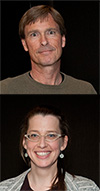 Superior Teaching Awards
Jack Broughton
Ella Myers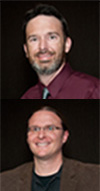 Superior Research Awards
Phil Dennison
Brett Clark




Staff Excellence Award
Dennis Laros
---
University Awards
University Distinguished Professor
Tim Smith
Calvin and JeNeal Hatch Prize
Theresa Martinez
Fulbright Scholar
Howard Lehman
Early Career Teaching Award
Beverly Brehl
Public Service Professor
Akiko Kamimura
Equity and Diversity Award
Samantha Eldridge
Irwin Altman Award
Jeanine Stefanucci
Click here to view more information about each of the award recipients.
---
University Scholarships
Truman Scholar
Tianna Tu
Udall Scholarship
Matt Kirkegaard
Pi Gamma Mu Honor Society
Maximilian Stiefel
Andrew Choi
---
Congratulations to the 2014 CSBS Graduates!
The college awarded over 25% of the degrees from the University of Utah for the 2013-2014 academic year, with 222 master's awarded at the graduate and PhD convocation on May 1, and 1400 bachelor's at the undergraduate convocation on May 2. In addition, psychology, human development and family studies, economics, and sociology were once again ranked among the top 10 most popular awarded degrees.
---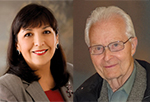 Alums Honored at Annual Luncheon
This year's CSBS Distinguished Alumni Luncheon was held on April 29 to honor Rebecca Chavez-Houck and Siegfried Karsten. Chavez-Houck earned a master's in public administration in 2006. Karsten earned a master's in 1962 and a PhD in 1970, both in economics. Click here for the full biographies.
---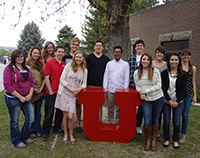 Between bringing two esteemed authors to campus, continuing their tutoring efforts at Bennion Elementary, and hosting numerous research workshops that helped double undergraduate research participation, this year's student ambassadors have had their hands full. Now with a new team in place for the 2014-2015 year, motivations are high to continue building student engagement, philanthropy, and recruitment.
---
Recipients Celebrate Accomplishments at Awards Dinner
The CSBS Dean's Office awarded 27 undergraduate students and eight graduate students with scholarships and fellowships this year, totaling $158,000. Individual departments awarded an additional 54 scholarships to equal around $400,000. Each recipient was then invited to the annual awards dinner for an opportunity to be recognized and meet some of the donors. View the pictures of the event.
---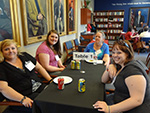 Mentor Luncheon Facilitates Student and Alumni Connection
The spring mentor luncheon successfully brought several CSBS students together to meet with alums from political science, family and consumer studies, anthropology, economics, and psychology. Read about the featured alums.
---

Anthropologist Inducted to NAS
Health, society and policy co-chair and anthropology professor Polly Wiessner was recently accepted into the National Academy of Sciences. Wiessner is the seventh faculty member from the anthropology department to join NAS. "This honor means a great deal to me because research and engaged anthropology in the societies where I work is often very hard due to rapid change that turns the culture upside down," she exclaims. For more information, check out the U News press release.
---

Graduate Students Take Nationals in Policy Challenge
Anna Brower (MPA), Clare Tobin-Lence (MPP) and Laura Briefer (MPA) won the National Policy Solutions Challenge held in Washington D.C. on March 22. The team presented research and ideas around the following topic: Improving employment and earnings outcomes for younger workers.
---

Psychology: Science in Action Education Campaign
Psychology professor David Strayer has been featured in the launch of APA's Psychology: Science in Action. The new website campaign includes psychologists discussing their research and how it impacts peoples' lives in an effort to inspire future psychologists. Strayer's profile focuses specifically on distractions pilots and drivers face.

---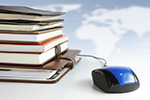 University Teaching Committee Funds Online Course Project
Sociology professor Kim Korinek has received full funding for her project: Innovations in Promoting Student Access and Engagement in an Online General Education Diversity Course.
---
Geographer Returns to Greenland
Geography professor Rick Forster and research team continue their research on the Greenland firn aquifer study. Click here to read the NASA blog.
---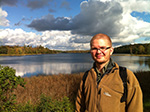 The Link Between Fossil Fuels and Human Wealth
Sociology professor Andrew Jorgenson analyzes the problem with promoting economic development at the expense of climate. Listen to the Scientific American podcast.
---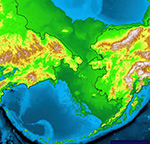 Inhabitants of the Bering Land Bridge
Anthropologist Dennis O'Rourke co-authored a column arguing that genetic, ancient environmental and archaeological evidence supports the "Beringia Standstill" hypothesis. Learn more.
---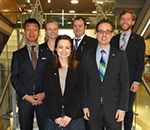 Political Science Students Represent U at West Coast Model EU
Political science professors John Francis and Tobias Hofmann and a group of students were invited to the 2014 West Coast Model EU, a summit negotiations session held at the University of Washington. The group was asked to put together a proposition for a banking union for Europe and the reform of the EU's migration and refugee policy for Ireland, Luxembourg, and Malta. View the pictures of the event.
---
Wildfires Worsen in the Western U.S.
A new study conducted by geography professor Phil Dennison correlates climate change with increasingly destructive wildfires. Click here for the story.