SWC Projects Highlighted in @theU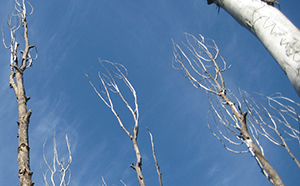 Water uptake in plants, the neurocognitive underpinnings of certain personality traits and food as a cultural process. How are these starkly different areas connected?
Each topic relates to environmental change. And each topic is the thrust of a new interdisciplinary research collaboration. These projects and six others have received funding through the Global Change & Sustainability Center (GCSC) and the Society, Water, & Climate Research Group's (SWC) new seed grant initiative.
"These kinds of interdisciplinary research endeavors are crucial to addressing today's urgent social and environmental challenges," said Andrea Brunelle, chair of the Society, Water, & Climate Research Group executive committee and professor and chair of geography. "The diverse range of projects supported by the seed grants is a testament to the importance of multiple perspectives on climate, society and water. The work doesn't stop with these grants. Through other ongoing collaborations between GCSC and SWC, as well as with partners such as Red Butte Garden, we will continue to support this relevant research." Read more.