CSBS Students present at Research on Capitol Hill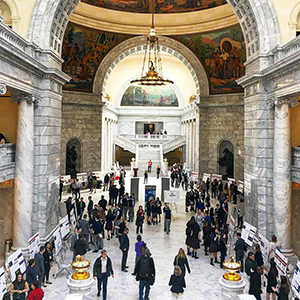 In February, six CSBS students joined other undergraduates to exhibit their work via posters to Utah State legislators. This event demonstrates the importance of undergraduate research and creative work from the two Research One universities in this state: University of Utah and Utah State University.
Jordin Hartley, Environmental & Sustain Std BS (Prof. Jennifer Watt) – Reconstructing a Fire History Record and Disturbance Patterns for a High Elevation Site in the Northern Rocky Mountains
Mitch Johansen, Sociology BS (Prof. Akiko Kamimura) – Physical activity classes for refugees resettled in Utah
Zoe Kozlowski, Health, Society and Policy HBS (Prof. Lori Gawron) – Assessing the Contraceptive Needs of Homeless Women in Salt Lake City
Luciana Salmi, Pscyhology HBS (Prof. Elisabeth Conradt) – Investigation of the Combined Effects of Social Support and Maternal Prenatal Mood on Newborn Neurobehavior.
Hannah Samowitz, Pscyhology HBS (Prof. Monisha Pasupathi) – The effects of air pollution salience and place attachment on supporting an environmental organization
Carly Shields (Prof. Marissa Diener) – Needs of Youth with Autism Spectrum Disorder (ASD) in Health Care Settings