Fulbright Grant Recipients 2019-20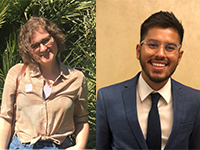 Even during the challenges of the COVID-19 pandemic, two outstanding CSBS undergraduate students, Caitlin Silianoff and Rogelio Brambila, have succeeded in qualifying as recipients for the Fulbright Grant!
Caitlin will serve as an English Teaching Assistant in Taiwan, and will receive her BA in Political Science and English.
Rogelio will serve as an English Teaching Assistant in Mexico, and is receiving his BA in Anthropology.
Because of the uncertainty surrounding the Covid-19 crisis, grants will begin in January 2021. The Fulbright Program is the nation's flagship international educational exchange program, and is designed to build relationships between people in the U.S. and in other countries with the aim of solving global challenges.
It is funded through an annual appropriation made by the U.S. Congress to the U.S. Department of State. At the U, the Fulbright Program is sponsored by the Office for Global Engagement and the Graduate School. Congratulations to Caitlin and Rogelio for their amazing efforts at furthering the mission of the college to #bethesolution.