Congratulations Irwin Altman!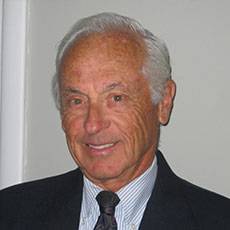 Congratulations to psychology professor emeritus Irwin Altman, who was recently honored at the Ninth Annual Tribute Dinner of the Pastor France A. Davis Scholarship Fund.
---
Dr. Irwin (Irv) Altman was born in New York City in 1930. He received his undergraduate degree from New York University and graduate degrees from the University of Maryland. Irv met Gloria Seckler in 1947, they were married in 1953. They have two sons and four grandchildren.
Irv joined the faculty at the University of Utah in 1969. In addition to his faculty responsibilities, he served as Chairman of the Department of Psychology, Dean of the College of Social and Behavioral Science, Vice President of Academic Affairs, Professor of Family and Consumer Studies, and Adjunct Professor of Communications. He was appointed Distinguished Professor of Psychology in 1988. He received the Rosenblatt Prize for Excellence, the University's highest honor, in 1989.
Irv placed a high value on the faculty roles of scholarship, teaching/mentoring, and service throughout his career. In addition to his administrative responsibilities, he was known for his rigorous supervision of graduate students and the high expectations he held for students in the honors program; his active support of the Lowell Bennion Community service Center; his leadership in programs to support the teaching of psychology at the local and national level; his contributions to the development of the field of environmental psychology; and his publication of 20 books and 130 book chapters and professional journal articles.
Irv's contributions and achievements were highly regarded by his peers and colleagues and he received numerous honors and awards from the University, state and national professional organizations. Notable among his awards from the University are the: Distinguished Scholarly and Creative Research Award, David P. Gardner Research Fellowship, Distinguished Service Award (Graduate School of Social Work), Presidential Teaching Scholar Award, Distinguished Honors Teaching Award, University of Utah Diversity Award and the Superior Research Award. Awards from national organizations include: the American Psychological Association Award for Distinguished Career Contributions for Education and Training in Psychology, the Society for Community Research and Action Award for Distinguished Contributions to Theory and Research, and the Environmental Design Research Association Career Service Award.
Irv's commitment to the University's goal to increase access and achievement of minority group members and women at the University of Utah led to significant changes in the University environment. His experience in leadership positions allowed him to identify social, and cultural factors that undermined and mitigated efforts to recruit, support and retain minority and women faculty and students at the University of Utah. His position as Vice President provided an opportunity for him to create an innovative administrative unit within Academic Affairs to ameliorate the negative effects of these factors. Under Irv's leadership, initiatives to recruit and retain minority faculty, graduate and undergraduate students were expanded. Programs were restructured, and resources were allocated to support the academic, professional and social development of minority and women faculty and students at the University. Linkages were developed with the public schools to develop a pipeline to increase the participation of students from groups underrepresented in the fields of math and science at the University. Programs to increase knowledge and understanding of the unique history and experience associated with ethnicity and gender status were broadened. The effectiveness of this unit led succeeding administrations to build on the foundation created by this innovative approach as they continued and expanded this important work.
Irv retired from the University in 2005. In 2008, his family established The Irwin Altman Outstanding Psychology Faculty Award to inspire and support faculty in the Department of Psychology who exemplify the values of teaching, research/scholarship and service that Irv modeled throughout his career. And, he pursued his previously unknown interest in painting and playing the piano.