---
University Scholarship Matching Challenge
The University of Utah is offering a challenge grant for scholarships that address three critical areas: achievement, access, and completion. Funds will be matched dollar for dollar with a minimum of $250 up to a maximum of $5000 per donor for all new or increased gifts before December 31, 2014. With your support, we can continue to recruit and retain the strongest students at the university. Click here for more information.
---
CSBS Student Spotlight: Courtney Dean
Courtney Dean is the epitome of a CSBS undergraduate student. Not only is she a double major in economics and political science, she is also a member of the Honors College. Academics aside, Dean serves as a program director, volunteer coordinator, and site leader for the Bennion Center. When asked about how her majors have influenced her community outreach, she said, "I am constantly looking at the environmental issues through the economic and political lenses. My hope is to approach these issues from an economically sensitive perspective and motivate change for the better." Continue reading.
---
Student Ambassadors Dominate Fall Semester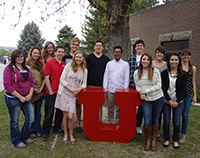 The CSBS Student Ambassador Program is now in its fifth year and continues to excel in student engagement, philanthropy and recruitment. This year's team has already taken part in several college and university-wide events, hosted their own undergraduate research workshop event, and most recently, they formed a partnership with United Way to help with College Application Week at Cottonwood High School. Learn more about this year's student ambassadors.
---
CSBS Spearheads New Speaker Series
CSBS Alums Tom Love, Oakley Gordon, and Harris Simmons returned to campus this fall to take part in the new Distinguished Speaker Series where they had the opportunity to discuss how their degrees have impacted their careers. Missed the events? You can watch their lectures here.
---
Connecting U: Fall Mentor Luncheon

The Connecting U Mentor Program returned for its second year with its semi-annual luncheon held on November 18. The program's objective is to bring alumni and students together and give them the opportunity to discuss experiences and careers with one another over lunch provided by the college. This semester's luncheon included alums such as Dave Buhler, Jeff Dixon, Renee Morita, Tony Milner and Ross Romero. View photos of the event.
---
Maxwell Endowed Chair: The Fight for Public Things

The Neal A. Maxwell Lecture in Political Theory and Contemporary Politics presented "The Fight for Public Things" on November 20. The lecture series featured Bonnie Honig, professor of political science and modern culture & media at Brown University.
---
LSA: Call for Travel Grant Applications

The Law and Society Association has created two travel grants for faculty and graduate students at the U. Applications are due December 15. Click here for more information.
---
Geography Alum Visits Campus

Valarm President and Co-founder Dr. Edward Pultar delivered the Geography Colloquium keynote, "Valarm-Monitoring Challenges" during this year's Geography Awareness Week.
---
Economics Introduces New Internship Program

Voice of Utah Children has taken three economics students as interns to work on job quality analysis and a gender inequality project. Economics Chair Tom Maloney has high hopes for the program and states, "Our goal is to give students hands-on data analysis and report writing experience in ways that support a better understanding of important policy issues in the local economy."
---
CSBS in the News
---

Polly Wiessner received the rank of fellow from the American Association for the Advancement of Science--the world's largest general-science society and publisher of the Journal Science. Wiessner was honored "for distinguished contributions to the field of anthropology, particularly for the integration of ethnographic, ethnohistoric and archaeological approaches in the study of human societies."
---
Econ Professor Earns Gandhi Peace Award

Gail Blattenberger, professor emeritus in economics, received the Gandhi Peace Award from the Gandhi Peace Alliance for her dedication to peace, poverty and the environment. Click here to find out more about Blattenberger and the award.
---
Evolution of Man's Navigational Skills

Anthropology professor Elizabeth Cashdan and anthropology postdoctoral researcher Layne Vashro published a new study that links spatial ability and roaming distance with the number of mates.

---
Hands-free just as Distracting as Texting

The latest research from psychology professor David Strayer and AAA shows that hands-free devices, thought to provide safety in vehicles, are just as distracting as texting and talking on the phone.
---
Firelight Talk of the Kalahari Bushmen

Anthropology professor Polly Wiessner released a new study that suggests that talking over firelight helped human culture, tradition and a sense of community evolve. Click here to continue reading.
---
Pilot Project Launched for Students with Autism

Family and consumer studies professor Cheryl Wright worked with University of Utah startup NeuroVersity and the Columbus Community Center to launch a pilot project addressing individuals with autism spectrum disorder.

Wright and team received the Social Enterprise Award for the project at the 9th Annual Dignity through Work Recognition Event.
---
Brothers-in-Law Band Together in Amazon Wars
Anthropology assistant professor Shane Macfarlan explains how culture influences violence among the Amazon's 'Fierce People'.
---
Best and Worst States for Military Retirees

NCVS Director and psychology professor Craig Bryan analyzes WalletHub's rankings for the 2014 Best and Worst States for Military Retirees.
---

According to a new study by psychology professor Sheila Crowell, there is no significant difference in emotional responses between 2-D and 3-D formats.