November 2012 Newsletter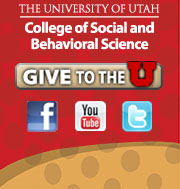 CSBS Ranks 68 Worldwide

The National Taiwan University recently published the 2012 Performance Ranking of Scientific Papers for World Universities. This ranking is based on three major performance criteria including research productivity, impact, and excellence. The University of Utah was ranked in five separate categories, with the college of social and behavioral science coming in at number 68 with respect to its impact of scientific publications. View the official rankings
Two Professors Named Inaugural Teaching Fellows
Family and consumer studies professor Russell Isabella and psychology professor Monica Tsethlikai were recently named inaugural Teaching Fellows for the Center for Teaching & Learning Excellence (CTLE). The CTLE Teaching Fellows are a select group of faculty from across campus dedicated to enhancing the teaching mission by identifying and planning initiatives that will improve the teaching and learning at the U.
Political Science Professor Takes Part in Innovation Symposium

Political science associate professor Thad Hall was part of the 2012 New Perspectives on Invention and Innovation Symposium on November 2 and 3, 2012. Hosted by the Lemelson Center, this year's symposium was titled, Political Machines: Innovations in Campaigns and Elections. Hall was a panelist member that discussed the technologies that underpin our most cherished democratic institution—the right to vote. Learn more.
World Renowned Social Scientist Visits U

On October 25, Dr. Michael Kimmel, a leading researcher on men and masculinity, and the author of Guyland: The Perilous World Where Boys Become Men recently visited the U to discuss his findings about the path to manhood. Dr. Kimmel's visit was sponsored in part by the gender studies program, the department of sociology, and the Center for Nonviolent Human Rights Advocacy.
Wild & Scenic Film Festival Visits UMFA

Thanks in large part to the environmental and sustainability studies program, the Wild & Scenic Film Festival will be coming to the Utah Museum of Fine Arts on November 15. Tickets are $5 and all proceeds will go toward student scholarships for travel and conferences. More information.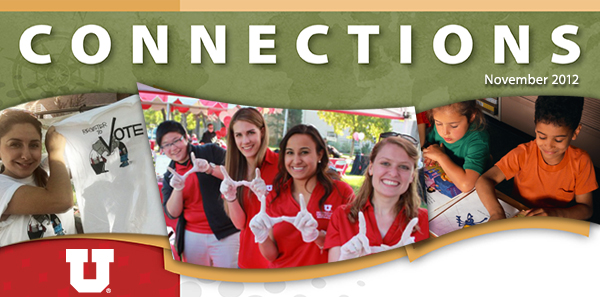 Connecting Classrooms to Careers: Crystal Vesch
Crystal Vesch, a senior with a double major in anthropology and political science recently landed an internship with Global Medical Staffing through the connecting classrooms to careers initiative. Learn more about her success story.
---
Students Celebrate Pershing's Inauguration
On October 23, the CSBS student ambassadors hosted a community engagement day in honor of President Pershing's inauguration. The ambassadors created two service events for the day: one consisted of volunteering to read to students at Bennion Elementary, and the other was connecting with refugees from East High at the Union bowling alley. Watch the video.
---
Hinckley, Political Science Talk Pre & Post Elections
Both the Hinckley Institute and political science kept themselves busy during the weeks leading up and after Election Day. They hosted a "Democracy at Stake" panel discussion featuring political science professors James Curry, Samuel Handlin, and Steven Johnston. Listen to the podcast. Professor Johnston also updated his blog on The Contemporary Condition with a new post titled, "The Republican Imperium." Read the blog. Hinckley then hosted a "Who Won and Why" discussion the day after elections, featuring political science professor Dan Jones, Deseret News Political Columnist Frank Piganelli, Utah Policy Daily Publisher LaVarr Webb, and Nationally Recognized Political Consultant Doug Foxley. Listen here.
---
Panel Exchanges Views on "Obamacare"
Just a week before elections, KCPW's CityViews aired a panel discussion on the hotly debated topic of healthcare reform focusing primarily on the Affordable Care Act known as "Obamacare." Sponsored by the Barbara L. and Norman C. Tanner Center for Nonviolent Human Rights Advocacy, the panel featured four esteemed guests including Senior Advisor and FuturePanel member at Leavitt Partners Dr. John C. Nelson, Executive Director of the Utah Health Policy Project Judi Hilman, economics professor and health, society and policy co-chair Norman Waitzman, and Sunderland Institute Director Stanley Rasmussen. Listen to KCPW's podcast of the event.
---

Alumni and Students Mingle During Utah vs USC Tailgate
As part of the festivities before the big game against USC, the student ambassadors hosted a tailgate bringing together CSBS students and alumni. A special thank you goes out to the sponsors who helped make the event possible: Dave Macfarlane & the IC Group, and Jeff Scott & Intermountain Bobcat. With their donations, CSBS was able to feed over 200 people. Watch the video.
---
Undergraduate Advisors Reach Out to Refugees
The CSBS undergraduate advisors will be actively taking part in what will hopefully be an ongoing project called, "Connecting High School to College." The project will consist of the advisors connecting with refugee students at East High to discuss college preparation and the college experience. Visit our website for more information.
---

Grandmas Made Humans Live Longer
Anthropology professor Kristen Hawkes has been published in the British journal Proceedings of the Royal Society B for her latest study on what is being called the "grandmother hypothesis." The study includes computer simulations that support the theory of a linkage between human lifespan evolution and the presence of grandmothers. Read the full story.
---
FCS Professor Discusses the Ins and Outs of New Book
Family and consumer studies professor and sociologist Dr. Robert Mayer has recently co-authored a new book titled Financial Justice: The People's Campaign to Stop Lender Abuse.Learn more about the book.
---

Lecture Reveals U.S. Health Disparities
The annual Rufus Wood Leigh Lecture, hosted by the anthropology department, was held on November 5 in the Marriott Library. This year's topic was titled, "American Indian Health Disparities: The Nature and Extent of Health Disparities in American Indian Populations. Guest speaker and Public Health Consultant Michael E. Bird was the first American Indian and social worker to serve as President of the American Public Health Association.
---
CSBS Adds Pi Gamma Mu Chapter
CSBS has recently been accepted as part of a new honor society chapter. Pi Gammu Mu, an international honor society in social sciences with over 170 chapters in the U.S. will become the college's main honor society, geared especially toward those students who don't have their own discipline-specific honor society. Applications are now being accepted. Visit pigammamu.org for more information.