March 2013 Newsletter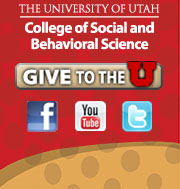 Dean Rudd Named University of Memphis Provost


Congratulations to David Rudd, who has been appointed as a provost at the University of Memphis. Read more about Rudd's departure.
Meet the Interim Dean

As Dean Rudd transitions to his newly appointed position of Provost at University of Memphis, Dr. Cynthia Berg has been selected as Interim Dean of the College of Social and Behavioral Science. Berg, who is a psychology researcher and professor, will take her position as interim effective July 1, 2013. Read the official University Memorandum.
Siciliano Forum: The Future of Higher Education

The Hinckley Institute of Politics is hosting the 16th Annual Rocco C. and Marion S. Siciliano Forum from March 4-12. It will include a keynote address from Adobe co-founder Dr. John Warnock, several RadioWest interviews, a documentary sneak peek, as well as other events throughout the week. Visit the Hinckley's website for more information.
College Kudos

Congratulations to political science professor Hakan Yavuz, who has been awarded the 2013-2014 Tanner Humanities Center Fellowship.

The Mekong Region Development Research Group, headed by sociology professor Kim Korinek, recently obtained $450,000 from the Henry Luce Foundation Asia Responsive Grant. The project will provide scholarly exchange programs, curriculum development, and a series of research methodology workshops in the hopes of building research capacity in the Mekong region.

Anthropology professor Polly Wiessner and her research team received 1 million dollars from the Prime Minister of Papa New Guinea to continue their research and cultural education of Enga.

Political science professors Lina Svedin and Christopher Simon were recently named book review co-editors for the award-winning journal, Public Integrity.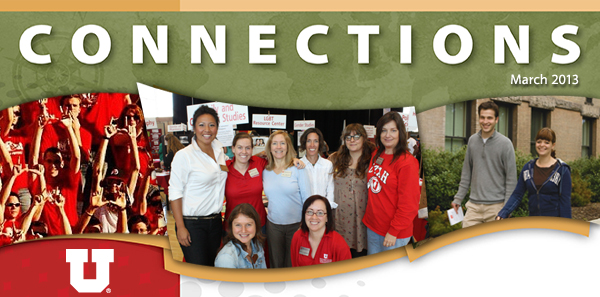 Connecting Classrooms to Careers: Natalie Blanton
Sociology and gender studies major Natalie Blanton discusses her experiences during her yearlong internship for Invisible Children, a nonprofit organization established in 2004 that focuses on raising awareness about the abduction and abuse of children in Central Africa.
---
Student Ambassadors
Interested in student recruitment, philanthropy, and career placement and want to learn more about how you too can get involved? Watch the video of current student ambassador Rachel Wootton as she discusses her experience in the program and then click here to apply.
---
CPPA Survey Brings Results
A survey performed by The Center for Public Policy & Administration has captured media attention for its impact on Utah Legislature. Learn more.
---
Innovative Teaching Awards
In anticipating the rapidly changing education landscape, our professors have proven that they're up for the challenge. The recipients of this year's Innovative Teaching Awards come from all different areas of the college including geography, psychology, political science, anthropology, and family and consumer studies. Details about the recipients.
---

Nature Nurtures Creativity
Starved for some creativity? Psychology professor David Strayer suggests in his latest study that the key to getting those creative juices flowing again is putting down your technological devices and getting back out into nature. According to The Huffington Post, in just four days with nature, your creativity could boost up to 50%. Learn more about the attention restoration theory (ART).
---
The Importance of Sex Education
Psychology professor Donald Strassberg sits down with Meridian Magazine to discuss the importance of talking about sex with children.
---

The Underestimates of Genetic Relatedness
Anthropology professor Alan Rogers led a study that provides new mathematical support for a theory explaining why men often support their sisters' children in cultures where infidelity is common. Read more.
---
Tanner Conference Update
The seventh annual Barbara L. and Norman C. Tanner Center for Nonviolent Human Rights Advocacy Forum was on February 20 and 21. This year's topic, titled "Religion, Conflict, and Peacemaking" featured guest speakers from across the university and the U.S. The keynote address,
Religion and peace in Israel-Palestine: Does it need a miracle?
, was delivered by Professor Mohammed Abu-Niver from American University School of International Service.
Listen to the keynote.
---

Building Trades for Brighter Future
Economics professor Peter Philips discusses what the next three to five years could mean in terms of the Great Recession and how some people are preparing themselves. Read the full article.
---
The Cost of Multitasking
For those who claim they can effectively multitask, a new study suggests otherwise. Find out what psychology professors David Sanbonmatsu and David Strayer discovered.
---

Military Suicide
Military suicides reached an alarming high in 2012—a trend that, according to Dean Rudd, might continue into this year. Find out why. Rudd also discussed concern of the overall care for veterans with the House Committee on Veterans' Affairs. Read the NBC news story.