---
Alta Integrates Scholarship Opportunity
Originally approached as a graduate student project to introduce sustainability within a business, the Alta Environmental Center has become a leading advocate in sustainability initiatives. Its internal efforts include energy efficiency and operations, tracking greenhouse gas emissions, and vegetation management efforts. The center also serves as a liaison between the ski area, its national forest and protective watershed, to the Utah community. Now the center has expanded efforts toward supporting university students' education and research by creating a full-tuition scholarship for those interested in environmental and sustainability studies. Continue reading.
---

Ambassadors Shape Spring Agenda
The CSBS Student Ambassadors have been busy cultivating a variety of events for this semester, including projects with MUSE, Bennion Elementary School, and the Undergraduate Research Opportunities Program. Find out more.
---

Building Peace in the 21st Century: Global Ethical Dialogues
February 19-20: In collaboration with the Carnegie Council for Ethics in International Affairs, the Tanner Human Rights Center will examine new challenges to peace in the early 21st century—challenges that would not have been clearly envisioned 100 years ago when Carnegie's philanthropies were established.
---
First Lady Invites Utah Business to State of the Union
CSBS alums Peter and Nicole Mouskondis were invited to sit with the First Lady during President Obama's State of the Union Address. In his speech, Obama discussed the importance of ethics in local businesses and doing the right thing for their employees. The Mouskondis family owns Nicholas and Company, a broad line food distributor that has been recognized for its philotomo or "joyous hospitality" toward its customers and employees. Read the KUTV article.
---

Students and Alums Swap Stories at Luncheon
As part of a new initiative to connect students with alumni of the college, CSBS hosted a mentor luncheon that featured prominent members of the Utah community. Click here for a summary of the event.

---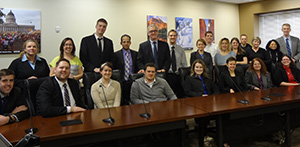 CPPA Hosts Day on the Hill
On February 6, The Center for Public Policy & Administration arranged for students to meet with members of the Utah Legislature and the Governor's office. The students were given an opportunity to discuss the legislative process and the issues that are being debated in the 2014 session. View photos from the event.
---
MPA alum Discusses Environmental Change
Associate Chief of the U.S. Forest Service Mary Wagner recently visited campus to speak on the many environmental challenges facing the agency, as well as their conservation efforts currently underway. Listen to the podcast.
---

HSP Student Publishes Article on Health and Diabetes Self-efficacy
In collaboration with six others including sociology professor Akiko Kamimura, health, society and policy student Maziar Nourian recently published an article titled, "Health and Diabetes Self-efficacy: A Study of Diabetic and Non-diabetic Free Clinic Patients and Family Members." The article examines the discrepancies between diabetic and non-diabetic free clinic patients and their overall health, as well as stresses the importance of the availability of diabetes education programs.
---
2014: The Year to 'Go Small'
Political science professor Thad Hall talks with Politico about the implications of Obamacare and the rise of the tea party in terms of what it will mean for 2014.
---
Heart Disease Risk Linked with Spouses' Social Support
Recent findings by psychologists Bert Uchino, Timothy Smith, and Cynthia Berg suggest that the support a person gives and receives in his or her relationship can have a significant effect on overall cardiovascular health. Read more.
---
Melty Ice Shelves: Filmy Firn
In an article published in Nature Geoscience, geography professor Rick Forster and team have discovered an aquifer beneath Greenland. Click here to read NASA's coverage of the discovery.
---
Upcoming Events

Love Utah Give Utah
March 20, 2014
---
Spring Mentor Luncheon
March 25, 2014