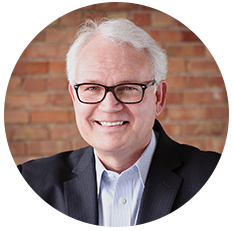 Rick Larsen
BS Political Science
President & CEO
Sutherland Institute
Rick Larsen is president and CEO of Sutherland Institute – a nonpartisan think tank that serves a unique role in today's polarized, political climate. His passion for sound public policy and sustainable solutions at the community level motivated him to earn B.S. degrees from the University of Utah in both consumer and community studies and political science with an emphasis on public policy. His career includes the unlikely combination of a decade in Hollywood and 20 years in the nonprofit sector. He says one led to the other – but that is a long story.
Larsen's past positions include president of Operation Kids, where he managed worldwide charitable giving and saw firsthand many of humankind's most pressing needs. From post-Katrina New Orleans to post-tsunami Thailand, he worked between local and state agencies and NGOs, coming to understand the powerful connection between principled public policy and resulting social outcomes. As chief development officer for United Way of Salt Lake, he embraced the concept of "collective impact" and the resulting successful outcomes in education.
He has provided strategic consulting and management on a wide range of endeavors, including Olympic education programs, ballot initiatives, gubernatorial campaigns, nonprofit development and compliance strategies, and for-profit corporate social responsibility efforts. Today, he works to bridge the gap of partisan politics and maintain the principles that underlie our freedoms.