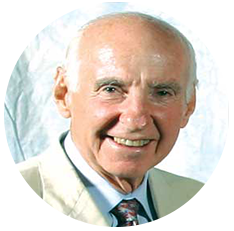 John H. Morgan
BS Political Science
CEO
Morgan Gas & Oil Company
At 92-years old, John Morgan, Jr., begins his days on the tennis court week with his wife, Wilma, either at the University of Utah's Eccles Tennis Center or at the courts in Salt Lake's Liberty Park. He also plays in St. George, Utah, where the games are held each October. After tennis he heads to work at Morgan Gas & Oil Company, where he has been chairman of the board, president and chief executive officer since 1982.
John began his career more than 60 years ago. After graduating from the University of Utah in 1951 with a bachelor's degree in political science and a minor in business, he formed the Uintah Wyoming Oil and Gas Company. In 1967, he merged Uintah Oil and Gas into Utah Resources International, Inc., and served as that company's chief executive officer until 1995.
John was raised in Salt Lake City, but he and his first wife, Daisy (who died in 2001), and their four children enjoyed spending time in St. George, and he realized during the 1970s that the "sleepy little farming community" had the potential to become a great resort. He and Daisy bought some land and put a golf course on it. In 1979, he built the St. George Hilton Inn—the first hotel in the city—which Daisy managed for 14 years.
In trying to figure out how to attract more visitors and ensure the hotel's success, he realized that St. George residents were interested in sports and the city attracted retired people, and the idea of a senior sporting event was born. He and Daisy, along with friends Royce and Jill Jones and Sylvia Wunderli ex'66, used the Baton Rouge-based National Senior Games Association, which was established in 1985, as a model for the St. George games. With a goal of encouraging good health and physical fitness for seniors, the games, originally called the World Senior Olympics, were first held in 1987 as part of a community development plan for St. George. In 1989, Utah philanthropist Jon M. Huntsman, Sr., became the principal sponsor, and the name was changed to the Huntsman World Senior Games.
The event has become the second-largest senior games in the world, behind the National Senior Olympics, and gives 10,000 men and women ages 55 and older the opportunity to compete in 27 athletic events over a two-week period. Serious athletes from Japan to Russia and from Alaska to Australia come to participate. John himself has competed in the tennis event in all but one of the 26 annual games. In 2013 he won two silver medals and one bronze, just missed winning a gold. He also received the Personal Best Award from the National Senior Games Association.