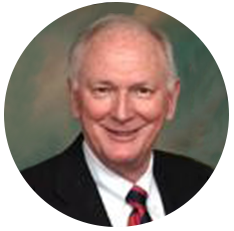 Les Moore
BS Economics
Managing Director
Kensington Capital Holdings (KCH)
Currently, Mr. Moore is the Managing Director of Kensington Capital Holdings (KCH) which oversees a portfolio of several corporations under the direction of Robert C. Gay, founder and Chairman of the Board. He is also a Senior Advisor for HGGC, a private equity firm.
Prior to his association with KCH and HGGC, Mr. Moore, was an Executive Vice President of Bain Capital. His responsibilities included pre-acquisition reviews and, more importantly, establishing post-acquisition strategies for improving the performance of Bain Capital's portfolio companies as well as effective exit strategies for the shareholders.
Mr. Moore's current board representation include ICON Health & Fitness, General Resonance, The Christmas Box International, and The Brigham Young University Center for Economic Self­ Reliance and the ANASAZI Foundation. He also sits on the President's Council for BYU­ Hawaii. Mr. Moore was previously a director of US Synthetic, Sorenson Capital Advisory Committee, UNITUS and a number of other corporations.
Mr. Moore has more than 30 years of experience working in top-level senior management positions in middle market companies.
Prior to joining Bain Capital in 2000, Mr. Moore was the President of three middle market companies which produced record breaking results. He served as President and CEO of Hawaii's Polynesian Cultural Center from 1991-2000. During this time at the PCC, Mr. Moore won more than 56 awards, including the Ohana Maika'i Award of Excellence. Mr. Moore also served as President and COO at EA Sween Company and Stewart Sandwiches.
Mr. Moore received a B.S. degree in Economics with honors from the University of Utah. Mr. Moore was an instructor of economics while completing his graduate studies in Economics from Brigham Young University. Mr. Moore was also an adjunct professor of Strategic Management at BYU-Hawaii from 1992-2000.