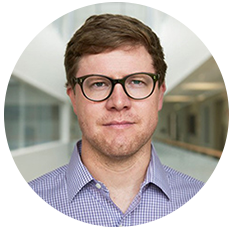 Jeff Elison
BA Psychology; PhD Psychology
Assistant Professor
University of Minnesota
Jed T. Elison was born in Blackfoot, Idaho. With the exception of a formative year spent in Boston as a young child (developing into a Red Sox fan), he grew up in southeast Idaho. While both of his parents and 3 of his 5 older brothers took bachelors degrees from Brigham Young University, Elison earned Bachelor of Arts degrees in Psychology (2005) and English Literature (2005) from the University of Utah. He had many wonderful mentors at the U, but he credits one in particular, Brooke Hopkins, for encouraging him to pursue an academic career. After graduation, he worked at Primary Children's Hospital and with the Department of Psychiatry for a year before entering graduate school at the University of North Carolina – Chapel Hill in 2006. He competed his Ph.D. in Psychology in 2011. Elison then spent two years as a Postdoctoral Scholar and Lecturer at the California Institute of Technology.
In the fall of 2013, Elison took a position as an assistant professor at the Institute of Child Development, University of Minnesota. His research focuses on infant brain and behavior development and identifying early emerging biomarkers of autism spectrum disorder. He has published scholarly research articles in the American Journal of Psychiatry, Journal of the American Academy of Child and Adolescent Psychiatry, Neuroimage, and Developmental Science. Since arriving at the University of Minnesota, he received a Biobehavioral Research Award for Innovative New Scientists (BRAINS) from the National Institutes of Mental Health, a 5-year grant to support his program of research in infant brain development. He has also received the Society for Research in Child Development's Early Career Research Contribution award.
Elison lives with his wife Kathryn in a wonderful neighborhood in Saint Paul, MN. He looks forward to the time when he can read Shakespeare again (perhaps in another 5 years), but until then, he values his Sunday mornings with the New York Times. He can't remember temperatures in Idaho/Utah ever as low as they are consistently in Minnesota during the winter, but finds the microbrewery scene in the twin cities formidable compensation. During the summers, he is working on becoming a Twins fan.