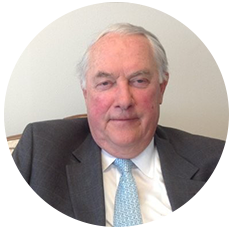 Stuart S. Dye
BS Political Science
Lawyer
Stuart S. Dye & Associates, PLLC
Stuart S. Dye graduated cum laude with his bachelor's degree in 1961. He currently practices in the areas of U.S. legislative and administrative law, international commercial transactions and projects. Mr. Dye represents domestic and multi-national corporations, trade associations and not-for-profit entities involved in transportation, energy, homeland and maritime security and emergency preparedness and response. Additionally, Mr. Dye advises clients on joint venture project structuring, financing, political risk assessment and market development for projects in the United States, Mexico and Latin America. He is called on by clients for his experienced views on legal, political and economic developments and their impact on project objectives. He has represented clients before the United Sates Congress and the Departments of Transportation, Defense, State, Energy, Homeland Security and other related federal agencies on matters involving both the federal and state laws of the United States, Mexico and Brazil.
In a wide range of maritime matters, Mr. Dye represents domestic and foreign vessel owners, operators, sellers and purchasers, financial institutions and bondholders, as well as oil spill recovery. He acts as Special Maritime Counsel on regulatory and legislative matters, including port and vessel security, mergers and acquisitions, U.S. Government Shipyard Grants, Guaranteed Vessel Financing obligations and workouts. He is an internationally recognized expert in the U.S. and foreign documentation and cabotage laws, including "The U. S. Jones Act" and "The Dredging Act", and exceptions thereto.
In the energy field, Mr. Dye has advised natural gas, natural gas liquids and crude oil producers, refiners, marketers and pipelines, both domestic and international. He also is an experienced advisor to domestic and foreign clients involved in the offshore oil, gas and wind industries. He has represented clients before the U. S. and Mexican Congresses, their respective Departments and Ministries of Energy and Transportation and related regulatory agencies, including the U.S. Coast Guard, Customs Border Protection, Federal Maritime Commission and Maritime Administration. After his sea duty, Mr. Dye served on the Deep Submergence Systems Review Group and the Legislative Affairs Staffs of the Secretary of the Navy and as a Special Assistant for Law of the Sea Matters, International Law Division, Navy JAG.