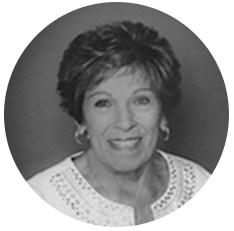 Colleen Cluff Caputo
MS Human Development & Social Policy
Family and Consumer Studies Department - Chair
University of Utah
Colleen Cluff Caputo, born and raised in Salt Lake City, is one of the granddaughters of the second president of Brigham Young University, Benjamin Cluff, Jr. Her parents were Magdalen Reiser Mackintosh and Waldo Cullimore Cluff. She is the youngest in a family of four children with two brothers and one sister. She attended elementary and secondary schools in Salt Lake City, and then went on for her bachelor's degree at the University of Utah in home economics education. During her undergraduate years at the university, she was a member of the Alpha Chi Omega sorority, serving as president of the sorority during her senior year.
Colleen received an assistantship at Iowa State University to work on a masters degree in home economics education. With her children ages four and seven, she traveled to Ames , Iowa , where she obtained her masters degree and was encouraged to pursue a Ph. D. She finished a year toward the Ph.D. before returning to Utah to teach at Weber State College (now Weber State University ). Her committee approved additional course work at the University of Utah and Brigham Young University . In addition to these courses, she attended classes and completed her course work at Iowa State University during summer sessions. She returned to Iowa State on a sabbatical leave from Weber State College to complete the residency requirement, comprehensive exams, her research project, and write the dissertation.
Colleen received her Ph.D. in 1975. She returned to Weber State to pay back the time owed for the sabbatical leave and then joined the faculty in the Family and Consumer Studies Department at the University of Utah in 1976. Colleen was very active in the evolution of the interdisciplinary program in the department and became its chair in the spring of 1984.