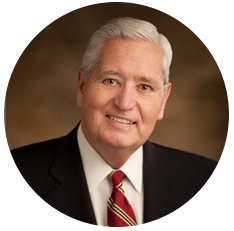 H. David Burton
BS Economics
University of Utah's Board of Trustees
University of Utah
Early in his career, David Burton worked for the Utah Tax Commission and for Kennecott Copper. In 1977, he was hired by the LDS Church as an assistant budget officer. A year and a half later, he accepted a position as the executive secretary to the church's presiding bishopric. After serving as counselor to the presiding bishop, Burton himself became the church's thirteenth Presiding Bishop. He was released from this calling in March of 2012 and given general authority emeritus status after many accomplishments, including overseeing the development of the City Creek Center.
After serving on the Utah Transit Authority Board since 2012, David was elected as the chairman of the agency's board of trustees on Wednesday, September 24, 2014. He has served as a member of the University of Utah's Board of Trustees since 2013 and is a member of the College of Social and Behavioral Science's Advancement Board.
David Burton married Barbara Matheson in September 1960. They have 5 children, 21 grandchildren, and 5 great-grandchildren.