---
Scientist. Professor. Climate Champion.
Chief Scientist - The Nature Conservancy
Distinguished Professor - Political Science - Texas Tech Univ.
Time Magazine's 100 most influential people
Learn more about Katharine


The College of Social and Behavioral Science is proud to celebrate 50 years of inspiring human solutions to the grand challenges facing our world. No challenge is perhaps more pressing than the growing polarization in our society's discourse around many social and environmental issues. From climate change to childcare, income inequality to race relations, gender inequality to mental health, our collective ability to discuss contentious issues is crucial to the development of impactful solutions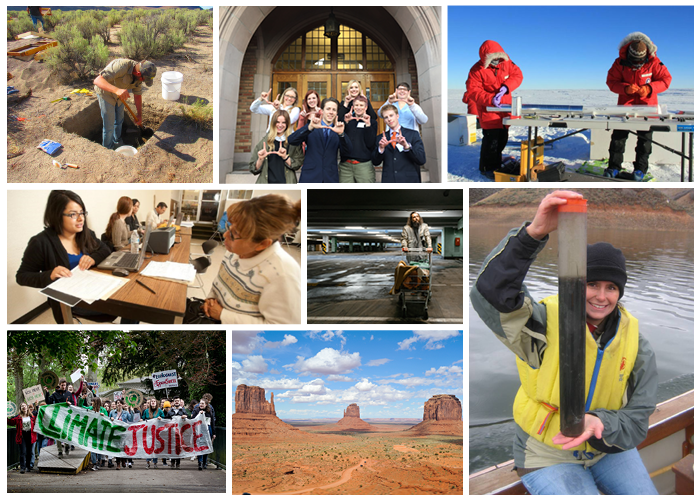 To celebrate our college's 50th-anniversary milestone, we're delighted to welcome our keynote speaker, Katharine Hayhoe. Katharine currently serves as the Chief Scientist for The Nature Conservancy, and was recently recognized as one of Time's 100 Most Influential People. Her recent book, Saving Us: A climate scientist's case for hope and healing in a divided world, provides a roadmap for meaningful dialogue around climate change; lessons that extend to divisions found in many pressing social and environmental issues, offering hope for future progress. Join us for two days of inspiring talks, important discussions, and the chance to connect with your fellow CSBS community.


Event Information
---
Monday, April 18th, 2022
Hinckley Forum
Constructive Dialogue for Grand Challenges: Lessons learned from climate change
Hinckley Institute of Politics | 12:00pm - 1:00pm
Livestreamed event link

Lightning Talks: U of U Research on Climate
Join us for a special livestream event featuring climate-focused research
presentations from Katharine Hayhoe and University of Utah faculty and students.

Swaner Forum Lightning Talks
Short research presentations from University of Utah faculty and students.
Natural History Museum of Utah | 4:00pm - 5:00pm
Livestreamed Zoom event Password: HayhoeSwan

Academic Seminar w/ Katharine Hayhoe
High-Resolution Climate Projections: Connecting Global Change to Local Impacts
Natural History Museum of Utah | 5:30pm - 6:30pm
Livestreamed Zoom event Password: HayhoeSwan


Tuesday, April 19th, 2022
CSBS 50th-Anniversary Keynote Address w/ Katharine Hayhoe
Barriers to Public Acceptance of Climate Science, Impacts, and Solutions
University of Utah Alumni House | 5:00pm - 6:30pm
Livestream event link
Click here to reserve your free tickets
Katharine Hayhoe
---
Katharine Hayhoe is an accomplished atmospheric scientist who studies climate change and why it matters to us here and now. She is also a remarkable communicator who has received the American Geophysical Union's climate communication prize, the Stephen Schneider Climate Communication award, the United Nations Champion of the Earth award, and been named to a number of lists including Time Magazine's 100 Most Influential People, Foreign Policy's 100 Leading Thinkers, and FORTUNE magazine's World's Greatest Leaders. Her TED talk, "The most important thing you can do to fight climate change: talk about it" has nearly 4 million views and her most recent book is, "Saving Us: A Climate Scientist's Case for Hope and Healing in a Divided World" (Simon & Schuster)
Katharine serves as Chief Scientist for The Nature Conservancyand she is also a Paul W. Horn Distinguished Professor and the Political Science Endowed Professor in Public Policy and Public Law at Texas Tech University. She has a B.Sc. in Physics from the University of Toronto and an M.S. and Ph.D. in Atmospheric Science from the University of Illinois and has been awarded honorary doctorates from Colgate University and Victoria University at the University of Toronto.