Tanner Center names Interim Director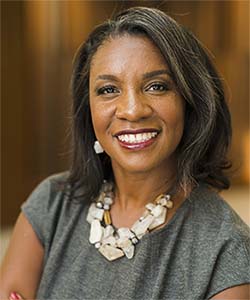 Erika George, Samuel D. Thurman professor of law, will serve as the interim director of the Tanner Center for Human Rights during the 2018-2019 academic year. We look forward to working with Erika while Thomas Maloney, professor of economics and current director, takes a sabbatical.
Professor George earned a B.A. with honors from the University of Chicago and a J.D. from Harvard Law School, where she served as Articles Editor of the Harvard Civil Rights-Civil Liberties Law Review. She also holds an M.A. in International Relations from the University of Chicago.
Prior to joining the University of Utah S.J. Quinney College of Law, Professor George served as a law clerk for Judge William T. Hart on the United States District Court for the Northern District of Illinois, as a litigation associate for the law firms of Jenner & Block in Chicago and Coudert Brothers LLP in New York City, and as a fellow and later consultant to Human Rights Watch. In connection with her work with Human Rights Watch, Professor George conducted investigations in South Africa on women's rights, children's rights, violence, the right to education, and abuses related to the HIV/AIDS epidemic. She wrote a book-length report, Scared at School: Sexual Violence Against Girls in South African Schools, which received widespread media coverage in South Africa and internationally. She currently serves as special counsel to the Women's Rights Division of Human Rights Watch. Continue reading.