Empowering Students to Impact the Future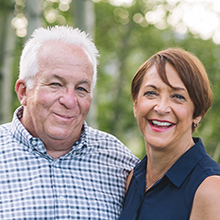 Anthropology and Psychology alumna Marsha Gilford and husband Gordon LaFleur recently created The Marsha Gilford and Gordon LaFleur Endowed Scholarship. In addition to being one of Social and Behavioral Science's Distinguished Alumni recipients, Marsha served as a member of the College's Advancement Board, which is charged with helping to provide support for the College's students and programs. By creating their scholarship fund, she and Gordon took that mission to heart.
"While serving as a member of the Board, I was inspired by the growth of the College's programs and by the students I met. Their passion for projects and research work was inspiring, and I realized that many wonderful ideas could come to fruition with more financial support," said Gilford. "Gordon and I decided that if we created a permanent scholarship, we could positively impact the future through the actions of these bright students. "
Gordon, while a Villanova alum, has been a Ute at heart for over 40 years as a loyal Crimson Club member. As a secondary school educator, he has always had an appreciation for academic research and student advocacy. Marsha and Gordon's two children also attended the University of Utah.
The scholarship he and Marsha have created exemplifies their joint commitment to education, young people and optimism for the future. Their fund is specifically designed to support students who can articulate how their life, community service, work, or research will improve quality of life in the future.