Spring 2009 Newsletter
JOIN US FOR THE THIRD ANNUAL
Barbara L. and Norman C. Tanner Center for Nonviolent Human Rights Advocacy Forum
THE EVOLUTION OF HUMAN AGGRESSION: LESSONS FOR TODAY'S CONFLICTS
February 25-27, 2009

This forum is organized around four topics that illustrate how evolutionary theory can inform our understanding of human aggression, and tendencies toward violence. Can evolutionary theory help us prevent violence? Oral presentations will be by invited speakers representing a diversity of disciplines including evolutionary psychology, biological, physical, and cultural anthropology, archeology, and primatology. The meeting will also include a contributed poster session. All sessions will be open to the public.
www.humanrights.utah.edu/forum
HANG UP AND DRIVE!
Drivers are far more distracted by talking on a cell phone than by chatting with a passenger, according to a new study by University of Utah psychologists Frank Drews, David Strayer and Monisha Pasupathi. This finding, along with others by the U of U team, has prompted the National Safety Council to campaign for a U.S. ban on all use of cell phones while driving.
CALL FOR NOMINATIONS
On Thursday, May 7 the College of Social and Behavioral Science will hold the Distinguished Alumni Awards Luncheon at 11:30 a.m. in the University of Utah Alumni House. We invite you to nominate candidates for this and future years. Recipients are graduates of the college who are excelling in their profession, involved in the community or giving back significantly to The U. Nominees may even combine two or more of those attributes.
2008 Distinguished Alumni Parry Mead Murray and Earl S. Skidmore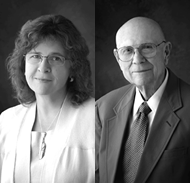 Please
click here
to fill out our nomination form or call Rick Pike at (801) 585-9200. Due March 6th.
GIVE TO CSBS
A new survey proves that Americans increasingly believe a college degree is essential for success. However, two-thirds also feel that higher education is priced out of reach for qualified students.
Give now
to student scholarships, and help make the college dream more accessible.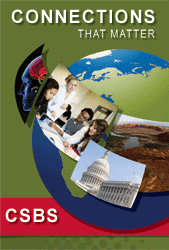 260 Central Campus Dr. Rm 205
Salt Lake City, UT 84112
(801) 581-8620
www.csbs.utah.edu

to add or remove your name from the CSBS newsletter mailing list, e-mail dean@csbs.utah.edu
SICILIANO FORUM 2008
Panelists at the 2008 Rocco C. and Marion S. Siciliano Forum discussed what can sometimes be a fine balance between protecting against possible terrorist attacks and suspending civil liberties.
In front of a packed audience,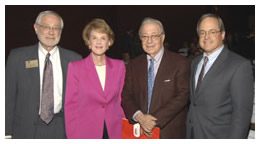 moderator Margaret Warner, who is the co-anchor of "America Abroad" on Public Radio International and senior analyst with "The NewsHour with Jim Lehrer" on PBS, and panelists Bruce Hoffman, Amos Guiora and Chibli Mallat discussed how the Obama administration should recalibrate the United States' approaches to terrorism.
The forum was sponsored by the College of Social and Behavioral Science. Warner reminded the panel and audience of the impact that President-elect Barack Obama would have on dealing with terrorist issues.
Hoffman, a senior adviser in the U's Institute of Public and International Affairs, said he agrees with what Obama has already stated regarding terrorism in South Asia. "It is the highest priority," Hoffman said. "South Asia continues to pose a threat." He said he endorses Obama's new policy to regather American allies through diplomacy. "We cannot do things unilaterally," Hoffman said. Hoffman said he believes negotiating with terrorists should only be done from a position of power. Because there is not a centralized Taliban, it's hard to speak directly to them, Hoffman said. "It is an important step in the right direction, but we need to proceed cautiously," he said. Hoffman also said the United States needs to revisit the structures our government leaders have put into place since the Sept. 11 attacks, including reviewing the Department of Homeland Security.
Guiora, a professor in the S.J. Quinney College of Law, said Obama needs to think tactically, strategically, geo-strategically and politically. Because there is no official state of al-Qaida, we will never win the War on Terror. He questioned whether the United States is really at war given the notion that wars occur between states not between a state and a non-state actor.
Warner asked the panel at what point damage to civil liberties, in an effort to protect the public, outweighs a terrorist strike, and how the next presidential administration should approach the issue. Hoffman said it is important to understand what terrorists are trying to do, which is incite a reaction. Hoffman said there needs to be a balance between giving authorities tools to protect the public and undermining civil liberties. Mallat, who is also a U law professor, cited Guantanamo Bay as a sad story in the history of America in terms of suspended civil rights. Non-citizens and U.S. citizens should have the same civil rights, Mallat said. "The U.S. Constitution has high standards and should be applied to all," Mallat said.
Read another Siciliano Forum article about Lee Hamilton's speech "Homeland Security: Progress and Problems Since 9/11."
Written by Rita Totten, published in The Daily Utah Chronicle Friday, November 14, 2008
THE EDUCATION OF A TEACHER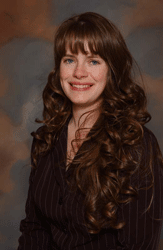 A college education can mean a lot of things to someone. In the case of Joy Johnson it's giving her the knowledge and skills for her dream career but it's also giving her an appreciation for family and changing the thinking of that same family.
Joy is the recipient of the Ralph and Julie Thomson Honor Roll Scholarship in the College of Social and Behavioral Science. She recently completed a bachelor's in CSBS' Social Science Composite Teaching and is working on a master's in education.
Joy graduated from West High School in 2002 and immediately began a family, having two children the first few years. She also began teaching at a private school as a substitute teacher and then as a preschool teacher.
Joy, and the teachers around her, discovered that she really enjoyed teaching.
"The principal and other teachers told me that they always knew when my class was starting because I'd be walking down the hall singing," Joy said. "The classroom is a place where I feel like I am a success and I want to pass that on to the kids."
But Joy couldn't do what she really wanted to do without obtaining a college degree and a teaching certificate.
"I came to The U because I really wanted to teach older children and I needed a degree to do it," said Joy. "I'm now getting tools to be an effective teacher. I'm learning how to teach in newer and effective ways . . . I'm really excited to leave and try these things out."
But teaching knowledge and skill aren't the only things Joy's learned at The U.
"Every class in political science I love," exclaimed Joy. "It was those classes that drove me – drove involvement in the political process. I'm now a state delegate for my neighborhood."
Attending The U hasn't been easy for Joy. She's had an additional two children (yes that's four now) and has needed both financial and family support to earn a degree.
"I wouldn't be here if I didn't have an amazing support system. I think they should give my mom and sister a degree because they've done so much for me and my kids," explains Joy. "Anytime I even look at my degree I think there should be two more names on it."
Joy will be the first woman on either side of her family to earn a bachelor's and a master's degree. Her success has changed the family paradigm on education.
30 CSBS MAJORS DOT ROSTER FOR SUGAR BOWL CHAMPION UTES
When you are the largest college at The U it should be no surprise that you have the largest number of majors on the Sugar Bowl Champion University of Utah football team. There are 30 players on the 2008 roster whose majors are in the College of Social and Behavioral Science. Twelve players from that list started all or part of Utah's perfect, 13-0 season. Most of the players are either economics or sociology majors with family and consumer studies and political science also represented.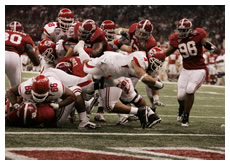 Matt Asiata, sociology major, scored the second touchdown of the Sugar Bowl and will return in 2009 as a starting running back. Freddie Brown, FCS major, was the star receiver of the game catching 12 passes for 125 yards. Both Matt and Freddie benefited from some good blocking by the offensive line led by Robert Conley, economics major, who has his sights set on the NFL next season.
Defensive standouts included Stevenson Sylvester, economics major, who had one of Utah's eight quarterback sacks and a fumble recovery. Paul Kruger and Kenape Eliapo, sociology majors, also recorded quarterback sacks. Kruger has declared for the NFL draft while Sylvester and Eliapo will return next season. Robert Johnson, sociology major, intercepted two passes including the final pass of Alabama's beleaguered and befuddled quarterback. Other starters on the squad included: Brice McCain (economics), Koa Misi (sociology) and Greg Newman (economics).
Tune in next year when CSBS majors return for a gridiron encore.
College of Social and Behavioral Science • The University of Utah • © 2009