September 2011 Newsletter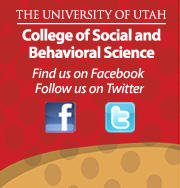 The Connections Fund
In 2011 Dean David Rudd decided to broaden the reach of funds received from CSBS alumni and friends. For years, contributions have been used to provide scholarships to CSBS students. While providing scholarship support will remain paramount, Dean Rudd would like to offer support to students who may have financial need to complete research, and/or applied learning or service learning projects.The fund, now named "The Connections Fund," supported six students who presented research at the Western Psychological Association Conference in Los Angeles in the spring.Read about recipients- opens new window
What does move to Pac-12 mean to academics at the U? Everything

Though moving to the Pac-12 may be a big deal for die-hard athletes and fans alike, the move also means big things for the school as a whole. The University recently became part of the Pac-12, and since then, there has been a lot of commotion as to why it matters. According to Dean Rudd, whether we admit it or not, we associate universities with their athletic affiliations. With that in mind, the pressure is on to step up performance not only athletically, but academically too. Joining the Pac-12 also means that the U will get a lot of national exposure—which will in turn be provocative for recruiting future students and faculty, and will expand its research enterprise. Big things lie ahead for the U in the Pac-12, so stay tuned. Read the Salt Lake Tribune article on Pac-12- opens new window
Environmental Studies Gets a Facelift—on its Program

The environmental studies program has changed. And what's even better, it has been moved to be more accessible to students. The program will no longer be located on the 3rd floor of Orson Spencer Hall. Instead, it is now located in the middle of OSH's 1st floor. But it isn't just the program's location that has changed. It has also added to its title—now it will be going by the name of "Environmental and Sustainability Studies." Read more about the environmental and sustainability program makeover.
Health Society and Policy: Old Program, New Name
What w

as previously known as the behavioral science and health program in theCollege of Social and Behavioral Science can now be found under a different name. It will now be called "Health, Society, and Policy" to highlight each of the areas the program covers. The name change comes from the ambiguity of the previous title, and confused looks from students and faculty alike.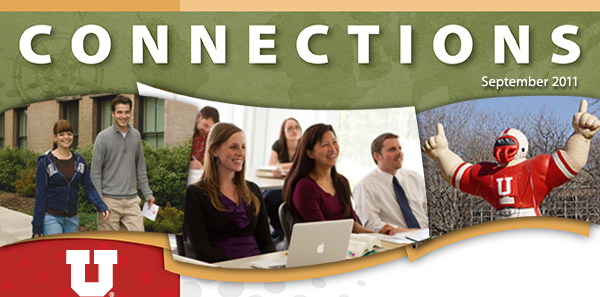 Faculty Member Steps it up in Areas Concerning Community

Getting involved on campus is advice that many current students and alumni give to new students and professors. Since her arrival in 1996, associate professor and director of graduate studies for human development and social policy Marissa Diener has done well to take that advice, having gotten involved with the Bennion Center, numerous interdisciplinary projects, as well as joining organizations to help with community research. Earlier this year, Diener was presented with the Distinguished Service Award for all of her hard work and dedication at the annual Community Engagement Celebration hosted by the Bennion Center. Read more about Diener and her work on campus.
---
Professors Take on "Complete Streets" Project
Interdisciplinary collaborative research is not a new theory here on campus. Carol Werner and Barbara Brown have done numerous research projects together, and are currently working on their latest one concerning environmental change on physical activity known as "Complete Streets," with the basic principle being able to have light rails, bike lanes, and sidewalks near streets. This concept will hopefully bring about data on how people use their environments, and give them an alternative to driving. Werner and Brown are joining forces with geography professor and chair Harvey Miller, as well as family and consumer studies professor Ken Smith. Research is said to commence later this year, with results being turned out in Spring of 2012. More about the research.
---
Suicide Scare: Veteran Students at High Risk
According to research presented recently at a meeting of the American Psychological Association, the number of veteran students considering suicide is rising at an alarming rate. In 2010, the American College Health Association showed 6% of college students reported considering suicide. This year, researchers with the National Center for Veterans' Studies at the U showed that 46% of men and women who serve in the military reported having suicidal thoughts. Of that 46%, 20% of them had actual plans of suicide. "These alarming numbers underscore the urgent need for universities to be adequately staffed and prepared to assist and treat student veterans," says David Rudd, dean of the College of Social and Behavioral Science and the lead author of the study presented by the NCVS. He explains that the majority of those with serious suicide risks are struggling with other pre-existing conditions such as anxiety, intrusive thoughts, sleep disturbances, and images of what happened in combat. Because of this, the U has established a Veterans Support Center that is available in the Olpin Union Building for student veterans who need/want a place that can help them make the transition back into civilian life. Rudd says that those who seek care from the Center are at a significantly lower risk for suicide than those who don't. Read the USA Today article about the research.
---
Solar Ivy to Sprout Foliage on University Building
When it comes to solar energy, ivy takes the heat--literally. This new solar energy system that was developed by Sustainably Minded Interactive Technology (SMIT) consists of leaf-like photovoltaic panels that use both the sun and the wind to generate electricity. The concept that was originally a thesis project for Samuel Cabot Cochran in 2005, is now available to consumers in a variety of colors, shapes, and photovoltaic panel types. The U even has plans for the leaf-like panels to appear on campus. Tom Melburn, an environmental and sustainability studies major, received a grant for a majority of the $42,000 needed for the installation from the U's Sustainable Campus Initiative Fund (SCIF). The rest of the funding will hopefully come from students wanting to purchase one of the panels for a small fee. When funding is completed, the solar ivy will be able to be seen on the south side of Orson Spencer Hall. Check out more about solar ivy.
---
Hotels Offer New Amenity: Digital Detox
Remember when vacations meant actually getting away from the daily hustle and bustle for a little 'R&R'? Hotels and resorts across the country are now offering this new marketing idea that will allow you to check your digital device in upon arrival so that you can actually get started on your vacation. The idea stems from a recent study that shows that 80% of Americans have problems disconnecting from the digital devices, even when they are on vacation. University of Utah psychology professor Dr. David Strayer explains that while digital devices are great at keeping you connected, it is necessary to get away from them. His research shows that when people unplug for a time, their bran functions are sharper. So for those who need a little time away from their devices, a digital detox may just be what the doctor ordered. Read more about digital detox.
---
Is High Heat Here to Stay?
Has the excessively high heat gotten you down? Unfortunately, it may be here to stay, according to some of the guest speakers on NPR's On Point with Tom Ashbrook. Sociology professor Andrew Jorgenson gives his insight behind the link between attitudes and the behavior changes coming into effect due to the high heat. Listen to the broadcast.
---
Adventures with CSBS Professor Harvey Miller
It would be a false assumption to say that professors just "teach" that which interests them. More or less, they eat, sleep, and drink in all they can get in their numerous fields of interest. Harvey Miller, geography department chair at the U is one such professor. In the past year, he has been part of visiting faculty in countries such as Belgium, Australia, and Germany for his research concerning sustainability planning and transportation. He has been the keynote speaker for conferences in Switzerland, Washington DC, and the Netherlands on topics such as time geography and mobile analytics, and also transparent transportation and measuring livability. But Miller's teaching hasn't taken a backseat to the other things he's been doing. Last Fall, he managed to teach a course on "Mobility Concepts and Analytics," in Greece. He also taught a graduate seminar on "Time Geography and Mobility Science" and was an invited lecturer on "How US Universities Work" in Switzerland. Yet even with Miller's busy schedule, he has found time to dedicate his service to a variety of workshops held in Washington DC. Most recently, he has teamed up with Barbara Brown, Carol Werner, and Ken Smith on the "Complete Streets" interdisciplinary research project. Never again can a person say "those who can't do, teach," because Harvey Miller has definitely proven that saying to be false.
---
New CSBS Student Ambassadors
Upon success with last year's student ambassador team, the College of Social and Behavioral Science has once again gathered a selected group of students to represent our student population. This team is charged with creating more student engagement within the college, on campus, and within the community. They will once again focus their efforts in four areas: 1) student recruitment; 2) community service for CSBS students; 3) creating connections with Alumni to assist CSBS students looking for internships and jobs; and 4) raising the level of student philanthropy. The group is excited to start the year off right, having already planned the College's first big event: the Legacy of Lowell Community Service Day on the 24th of this month. The first 50-75 who sign up will be able to work alongside the ambassadors as well as some associates from the CSBS team on the Liberty Heights project. Read about this year's ambassadors
---
College Kudos: Luz Robles
Luz Robles, former student of the University of Utah and current Utah State Senator, received the Par Excellence Award in April of this year. The Par Excellence Award goes to students who, in the 15 years after their graduation, have gone above and beyond with regards to his/her service to the community and professional achievement. Robles was born and raised in Mexico and immigrated to the United States in her 20s. She graduated from the University in 2000 with her bachelor of science in business marketing. She continued her education at the University and received her masters in public administration in 2005. Robles took her place in the Senate in 2008 after winning the election over Republican Carlton Christensen. Besides being a Utah State Senator, Robles is the director for the Zions Bank Business Resource Center as well as a proud mother. The College of Social and Behavioral Science would like to give Robles a big "college kudos" on her overall success in the community and her acceptance of this prestigious award. Watch the video on Robles.
---
Happy Birthday CPPA!
The Center for Public Policy and Administration is 65 years old. Celebrate their birthday by checking out their new website, and read more about the program in their monthly journal, Policy Perspectives.