October 2010 Newsletter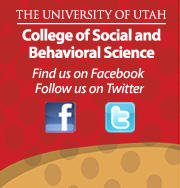 MESSAGE FROM THE DEAN
Welcome back! We're all looking forward to an exciting 2010-2011 academic year. This first issue of Connectionsfeatures a wonderful cross-section of work in the college. The College is doing exciting work which is both timely and helpful for informing the community about some of the most controversial issues of our time. I'd like to wish you the best for this academic year and, please, don't hesitate to contact me if you'd like to discuss the College in more depth and detail.
M. David Rudd
Dean
College Kudos
Congratulations to Nancy

Seegmiller for receiving the prestigious University Staff Excellence Award.
Sincerest thanks to Jolaine Randall for her 25 years of service to the University of Utah.
Polly Wiessner was recently profiled in Science Magazine- opens new window.
Special thanks to Overstock.com- opens new window for donating $75,000 to support a veterans conference in D.C. More details to come.
Upcoming Events
The first annual Anthropology Fim Series- opens new window begins October 13th. This is a collaboration between the anthropology department and the Utah Museum of Fine Arts. Prior to each film, there will be a discussion by an anthropologist. The series runs through November 10th.
Fourteenth annual Rocco C. and Marion S. Siciliano Forum
A Political Potpourri: 2010 Election Analysis and the Road to Political Reform
Robert M. Stern,
president of the Center for Governmental Studies
Thursday, November 4
12 noon, UMFA Dumke Auditorium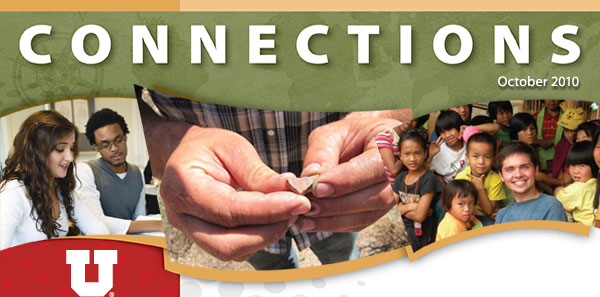 In a Remote Utah Canyon, Archaeologists Plumb a Mystery
Lawrence Biemiller, a senior writer with the Chronicle of Higher

Education, came to Utah last month to visit Range Creek Canyon. Biemiller endured two days of thunderstorms and intense winds in the canyon along with students and other staff members including Duncan Metcalfe, associate professor of anthropology and director of the archaeology field school. Read his report here.
---
The Education of an Officer
We pursue a higher education for a number of reasons — most often for the betterment of our minds or to pursue a particular profession. Neither are true reasons for Joseph Masini. Joseph Masini came to the University of Utah because he wants to be an officer in the United State Marine Corps. Read more.
---
Your Brain off Computers
Modern conveniences make it possible for us to have almost any information at our fingertips at any time. This technology has limitless possibilities to improve our lives. But what are the detrimental effects of this connectedness and constant electronic stimulation? What happens to your brain when you're "plugged in" and how does your brain react when you un-plug? Come explore this question and more with Psychology Professor David Strayer, several other prominent neuroscientists, and an award winning New York Times journalist as they travel down the San Juan River.
---
Sociology's "Give a Buck for Needy Students" Scholarship Campaign a Big Success!
The current economic crisis has hit our undergraduate students particularly hard, and has made it difficult or even impossible for some of them to continue their education. In response to this critical situation, the sociology department initiated a campaign to raise money for need based scholarships for sociology majors. Two sociology alumni, Jean Overfelt (BA '44) and Merylyn Hammond (BA '49), started things rolling last spring with gifts of $1,000 each. Next, current students were asked to "Give a Buck" to help those in need. More than 100 students donated to the scholarship campaign. Sociology faculty donated an additional $1,500. Finally, an email request was sent to two thousand sociology alumni. So far, we have received gifts and pledges of more than $1500, bringing us over the $5,000 goal we set last year. This month the department awarded ten $300 scholarships to needy sociology majors, based upon essays students wrote. The remaining balance will be awarded next year. This campaign was so successful that sociology plans to make this an annual event. We continue to welcome contributions to this fund. You can contribute online here.
---
Utah's Way of Picking Candidates Robs Voters
Kirk Jowers, director of the Hinckley Institute of Politics, wrote an op-ed piece for the Salt Lake Tribune, which was published on June 22, the day of the Utah primary elections. He talks about how the caucus-and-convention party nomination process demonstrates the best and worst of our state. "The system disenfranchises large swaths of our population and the process strangles Utah's representative republic. We can — and must — do better." Read more.
---
Is the Grand Canyon at Risk?
The Grand Canyon has been one of this country's defining features for hundreds of years. It is known as one of the Seven Natural Wonders of the World. But how imperiled is one of our greatest national treasures? Noise and air pollution, potential uranium mining, and changes to the Colorado River are just three of the potential threats to the canyon. Check out this USA Today article featuring political science professor Dan McCool to find out more.
---
What are the Benefits of Illegal Immigration?
Illegal immigration is a very heated topic in our nation. Utah is definitely no exception, being at the forefront of some of these issues. People are quick to pull out a laundry list of reasons illegal immigration is bad and the detrimental effect it is having on our society. But are there any benefits to it? What would happen to our local economy if all the illegal immigrants were gone tomorrow? Join ABC 4 News and economics professor Tom Maloney as they explain what might happen to the economy without migrant workers.
---
Transitioning Student Veterans
The difficulty veterans have transitioning to campus life is well documented. Veterans often return home and struggle with issues they may not know they even had. The National Center for Veterans Studies is working toward not only helping veterans transition back to civilian and college life but also to change college and university attitudes towards how they serve and help student veterans. Listen to this report from KUER to hear the challenges as well as the progress the NCVS is making.
---
New Tanner Center Volume Focuses on Legal, Economic, and Social Aspects of Migration
A new volume from Routledge, Migration in the 21st Century: Rights, Outcomes and Policy, provides a comprehensive examination of the opportunities and challenges posed by international migration in the early 21st century. The book, edited by Tom Maloney, Tanner Center Director, and Kim Korinek, Associate Director, was inspired by the 2008 conference on Migration, Rights, and Identities. The book examines the evolution of migration law and policy over the very long-term, economic impacts of immigration at the national level, and economic and social mobility among immigrants in local communities. It places particular focus on Utah as a case study of a newly-emerging immigrant gateway. According to Maloney, "This volume really embodies a lot of the priorities of the Tanner Center. It examines an important aspect of human rights along a spectrum from theory to policy and from global phenomena to local implications. The chapters range from a philosophical inquiry into the rights of aliens to a detailed discussion of the status of refugees in Utah. We think the book makes a unique and important contribution by examining these issues from such a diversity of perspectives." Find more details about the book here.