October 2009 Newsletter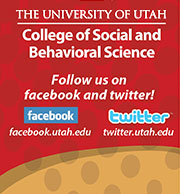 A MESSAGE FROM THE DEAN
I hope you enjoy Connections, the College's new monthly e-newsletter. CSBS is a vibrant place where students, faculty and alumni engage in cutting edge research, innovative teaching, and far-reaching service. Each and every activity provides an opportunity to create connections that matter and make a difference in individual lives. I hope you'll join me in celebrating the remarkable work of our students, faculty and alumni.
In addition to sharing what is going on in the College, I also hope our monthly e-newsletter provides a conduit within the University and across the globe. Please don't hesitate to call or send me a note about something you would like to share and celebrate.
Best Regards,
M. David Rudd
Dean
COLLEGE KUDOS
Econ's Gail Blattenberger receives 4th annual XO Award for her "Extraordinary Acts of Kindness."
Kristen Hawkes, distinguished professor of anthropology, recently elected to the American Academy of Arts and Sciences
Jim Alexander, professor of psychology, received a Presidential Citation from the American Psychological Association
University Staff Excellence Award Winners: Nancy Klekas (2009), accounting supervisor for psychology, and Tasha McVaugh Seegert (2008), assistant director for environmental studies.
Polly Wiessner, professor of anthropology, was awarded The University of Utah Distinguished Scholarly and Creative Research Award for 2009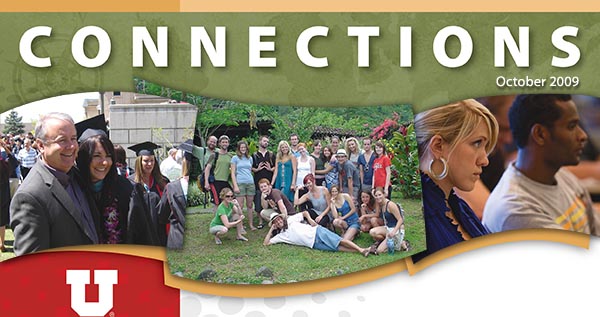 All The Right Reasons

For psychology grad Julio Jarvis, there are right and wrong reasons to pursue a university degree. (more)
---

"Driven to Distraction: 'It's crazy to be doing it.'"
Professor of Psychology David Strayer was recently interviewed on PBS Newshour with Jim Lehrer where he says your risk of getting in an accident is eight-times greater than a non distracted driver. "Pretty much everybody that I have ever spoken with has a personal experience of seeing somebody who's driving down a road, looks like they're drunk, they almost get run over, maybe they even see an accident and, lo and behold, the person hasn't been drinking — they've just been intoxicated by using a cell phone," Strayer said. You can read more on Strayer's research and watch a driving simulation at the NYTimes.com
---
Economics Professor Norman Waitzman in the PBS Special Report on Health Care Reform
Professor of Economics Norman Waitzman weighed in on the topic for health care reform during a PBS Special Report. Waitzman provided analysis, discussion, insight and engagement on universal health care in the United States. Waitzman's main areas of research address the cost of illness with a special focus on congenital conditions and preterm birth and the relationship between socioeconomic status and health.(more)
---

Creating World Leaders: The U's International Leadership Academy
Howard Lehman, associate professor of political science, and Anjali Pai Hallett, associate director for international programs and services at the U's International Center, spearheaded the creation of the International Leadership Academy. ILA is a unique program in which each student is assigned a mentor, from the community, engaged in international affairs within government, business or a nonprofit organization. The academy was created to complement any major, which allows students to add an international dimension to their chosen field of study and develop them as successful international leaders. (more)
---

U of U anthropologists take stewardship of prehistoric ruins in Range Creek
In September 2009 state authorities made U of U anthropologists permanent stewards of Range Creek Canyon. Multidisciplinary research projects in anthropology and geography have unearthed and cataloged thousands of artifacts from the canyon. Range Creek has been recognized as a national treasure due to the high density of virtually undisturbed prehistoric sites that have been found. Features of the canyon include granaries on cliffs, rock art panels, ruins and artifact scatters. Most of the artifacts are associated with the "Fremont," a term used to describe Utah's earliest farmers, who inhabited the region from about A.D. 300 to 1350. (more)
---

Thirteenth Annual Siciliano Forum: Global Aging in the 21st Century October 28-29, 2009
The Forum will focus on three overarching themes related to global aging in the 21st Century. Keynote speakers include, Dr. Alexandre Kalache, Dr. Sara Arber and Dr. Eileen M. Crimmins. Click to download a printable program for the Forum and Symposium. Click here for more information on the symposium.
---
Family & Consumer Studies: Financial Planning Emphasis
Jerry Basford, part-time FCS instructor for the Certified Financial Planning program, provides advice on The Slumping Economy, Year Two. Financial planning is a fast-growing career field and has become highly valued as a service to individuals and businesses. Click to find out more about the Certified Financial Planning Program.
---
Hinckley Institute interns serve the people of New Delhi, India
The Deseret News featured three Hinckley Institute of Politics interns on the front page of its Aug. 24, 2009, issue. According to the article, James Egan, Emily Bennett and Katie Calvert spent the summer in New Delhi, with a nonprofit aid project called Maitri, performing health checks and gaining funding for the organization. You can read more about the article here.
---

Asst. Professor of Geography Thomas Painter talks, "Dirty Little Secrets of the Greatest Snow on Earth."
Tom Painter, the director of the Snow Optics Laboratory at the U of U, found that dust can speed up snowmelt by as much as 35 days. "Already we have more than doubled the amount of dust we've typically observed during the last six years," Painter said. Painter was published for his article, "Biological consequences of earlier snowmelt from desert dust deposition in alpine landscapes," in the Proceedings of the National Academy of Sciences June issue. You can read about Painters latest findings on snowmelt at Los Angeles Times and New York Times.