November 2010 Newsletter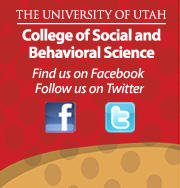 MESSAGE FROM THE DEAN
Welcome to another edition of Connections. It's been an interesting election season so far. Please take a look at several stories in this issue, including Kirk Jowers take and the Siciliano Forum's focus on midterm elections. The Siciliano Forum, in particular, is one of the University's most treasured public forums and I hope you'll make time to attend.
M. David Rudd
Dean
College Kudos

Chris Simon, director of the MPA program, was nominated as a Fellow in the Inter-University Seminar on Armed Forces and Society- opens new window.



Thomas Zumbado, a geography master's student, was awarded the United States Geospatial Intelligence Foundation Scholarship- opens new window. Congratulations, Tom!
Upcoming Events
Who Won and Why- opens new window
Kirk Jowers, Director, Hinckley Institute of Politics
Live RadioWest with Doug Fabrizio
November 3, 2010
11 am
Hinckley Caucus Room: 255 OSH
The next of the Anthropology Fim Series- opens new window will be held on November 3rd. Prior to each film, there will be a discussion by an anthropologist. The series runs through November 10th.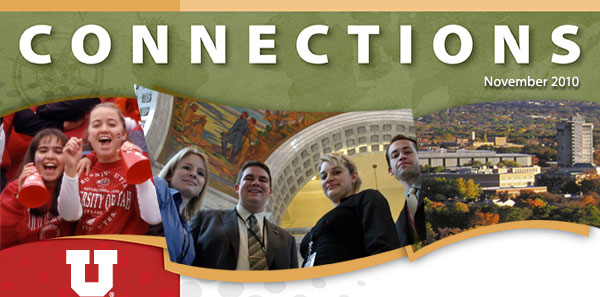 Radicalization of American Politics Likely to Continue
It appears Republicans are poised to make significant gains in a year teeming with immense political change and polarization. After just four years of enjoying control, the Democrats are going to receive the brunt of that anger even as disapproval ratings for both parties are dipping below 30 percent. "We're in a really volatile time in American history and the economy exacerbates everything," says Jowers.Read more.
---
Academia Still Hasn't Felt the Full Wrath of The Great Recession
The pattern of the economy has hit a new cycle putting tremendous strains on the labor market. We have already seen recession patterns over the last century showing deep cuts in the job market only to be followed by a relatively quick return to the level of employment when a depression or recession has hit. However, The Great Recession is instead turning out to be a prolonged recovery and a prolonged loss of jobs. Moreover — in correlation to population growth and job growth — there exists a plentitude of bad news; namely, the labor market may indeed not fully rebound to 2010 job levels for another ten years. This means that we may be in the longest protracted recession in American history. Read more.
---
Geography Week: November 15-19
Beginning Tuesday, November 16th to the 19th the University of Utah's College of Social and Behavioral Science Geography Department will begin the annual Geography Awareness and GIS Day of the 2010 year. An event that has garnered the attention of local news agencies and is renowned state-wide will once more inform and educate Utah's children and adults alike. At the University of Utah the event will commence with the Geocaching Activity Meet in OSH 270 at 3:00 p.m. followed by an open house on Wednesday, movie night on Thursday, and a captivating seminar by Dr. Jennifer Miller of the University of Texas at Austin called the Virtual Biogeography: Using Simulated Data as a Species Modeling Tool in the Hinckley Caucus Room at 11:30 a.m. to 12:30 p.m. in OSH 255. Please join us for four days of exciting news and enjoyment on all things geography!
---
Anthropology Lecture Series
Adventures in Anthropology features faculty presenting their research on such topics as evolution and archaeology. Duncan Metcalfe will present the next lecture entitled Range Creek Canyon: Past, present and future on Thursday Nov. 4 at noon in the Gould Auditorium. This series is co-sponsored by the Marriott Library and the Department of Anthropology. Past lectures include: Henry Harpending argues that humans are evolving much faster than the conventional scientific wisdom believes, potentially being vastly different than our ancestors just a thousand years ago. More at KUER. Kristen Hawkes examines the question: Why is it that relative to the rest of the animal world, humans live such long lives? Listen to an interview on KUER RadioWest with Doug Fabrizio recorded earlier this year.
---
In Utah: Children in Poverty Now 1 in 8.
Can a state be wealthy and still have a high poverty rate? Absolutely. According to sociology professor Andrew Jorgenson this is exactly the problem Utah is facing with its youth. From 2008 to 2009 Utah had 105,000 more children fall under the poverty line. Where is all the money going and how much longer can we expect this trend to last? Find out more in this article from the Salt Lake Tribune.
---
Siciliano Forum to Discuss 2010 Midterm Elections
This Thursday November 4th The Hinckley Institute of Politics will be sponsoring the Fourteenth Annual Rocco C. and Marion S. Siciliano Forum. The keynote address entitled 2010 Siciliano Forum: A Political Potpourri: 2010 Election Analysis and the Road to Political Reform will be held at 12 p.m. to 1 p.m. in the UMFA Dumke Auditorium. The speaker, Robert M. Stern who is president of the Center for Governmental Studies, will discuss the November 2 elections and ideas about how to reform politics through campaign financing, redistricting, and the initiative process. This lecture will be followed by a Q & A session moderated by Kirk Jowers. Click here for more information and a map to the Utah Museum of Fine Arts. Parking is available and the event is free and open to the public.
---
Power of positive thinking?
Popular advice for cancer patients in recent years has been to have a positive attitude about recovery, but can it actually enhance treatment? That's what some would have you believe. However, are patients allowed to express their fear, anger and concerns or are they forced to put on a smile? Find out the pros and cons of the "positive attitude" mentality in this Chicago Tribune Article featuring psychology professor Lisa Aspinwall.
---
Are Children of Divorce Destined for Marital Bliss or Failure?
Professor Nicholas Wolfinger was among the experts quoted in this article on the children of divorce. Wolfinger has found that the risk of divorce is 50 percent higher when one spouse comes from a divorced home and 200 percent higher when both spouses do. Wolfinger is the author of Understanding the Divorce Cycle: The Children of Divorce in Their Own Marriages.