May 2010 Newsletter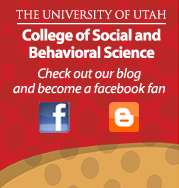 MESSAGE FROM THE DEAN
As we come to the close of the 2009-2010 academic year, it is with a mixture of pride and pleasure that we applaud some outstanding faculty and students in the College. As you'll see, the College was well represented among recipients of university-wide faculty awards, recognizing outstanding performances across the full spectrum of research, teaching and service. It's certainly no surprise that the College is among the top 75 in the world! The College also recently awarded scholarships to 26 incredibly talented students. None of the scholarships awarded would have been possible without the generosity and commitment of our donors. Let me say thank you for investing in our students and helping build connections that matter, connections that change lives and will make a wonderful difference in the world.
Regards
M. David Rudd
Dean
COLLEGE KUDOS
Congratulations to our outstanding faculty!
Distinguished Teaching Award
Marissa Diener (Family and Consumer Studies)
Distinguished Faculty Service Award
Luke Garrott (Political Science)
Calvin S. and JeNeal N. Hatch Prize for Teaching
Donald Strassberg (Psychology)
Distinguished Scholarly and Creative Award
David Strayer (Psychology)
CSBS Superior Research Award
Junior Recipient: Minqi Li (Economics)
Senior Recipient: Lisa Diamond (Psychology)
CSBS Superior Teaching Award
Recipient: Rebecca Utz (Sociology)
Finalists: Heather Melton, Kathleen Nicoll and David Strayer
Fellow of the American Society for Photogrammetry and Remote Sensing (ASPRS)
George Hepner (Geography)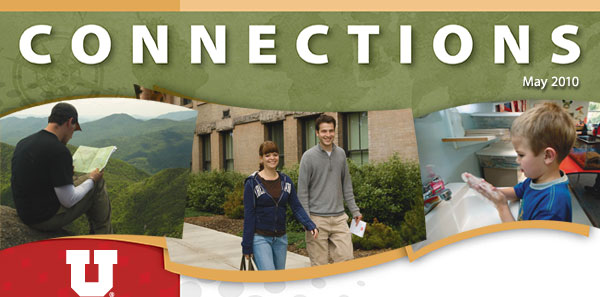 CSBS Awards Dinner - Students Find Connections That Matter

On Thursday, April 15 the College of Social and Behavioral Science honored students and faculty at the annual Awards Dinner held in the Rice-Eccles StadiumTowers. Over 100 people attended a dinner backed by University of Utah jazz musicians and featuring responses by some of the College's finest students. (Read more)
---
Is the Recession Over? By Peter Philips, professor and chair, Department of Economics

Recently released statistics indicate good news and bad news which turn out to be the same news: the Great Recession is over. All recessions come to an end. The fact that this one has ended is the good news. The bad news is that when recessions end all this means is that we have hit bottom. The question now is: do we bounce back up or do we crawl along the bottom?(Read more)
---
Ibrahim Karawan's Recent Articles
Professor of Political Science Ibrahim A. Karawan's article on Iran's upheaval entitled "Preliminary Reflections about the Current Iranian Condition," was recently published in Columbia University's Gulf2000 and in Egypt's most widely circulated daily newspaper, Al-Ahram (links to Arabic version). Karawan was also published in the influential opposition newspaper Al-Dostor for his interview on President Obama's foreign policy during his first year in office. Karawan was the moderator for the Hinckley Forum "Ideas as Weapons: Militant Islamist Groups," on Friday April 2nd. "Four of my exceptional Honors students shared with us and with the community the fruits of their most impressive research."
---
Rudd writes, researches and testifies
CSBS Dean David Rudd has been in the news lately. As a renown suicidologist, Dean Rudd testified before both the U.S. Senate and U.S. House of Representatives in both February and March of this year. Given the rise in suicide among U.S. soldiers and veterans, Congress is asking Rudd and other experts to explain reasons for the increase and offer counsel on prevention. Rudd also penned an opinion piece published in USA Today Wednesday, March 3. The article is titled, "Soldiers need help with the emotional toll of war." Rudd is currently working on four grants. He is the principal investigator for a $2 million grant studying cognitive behavioral therapy for military populations and co-principal investigator for three other grants looking at suicide within the military. All four grants are funded by the U.S. Department of Defense with the remaining three totaling over $5.5 million. You can read more about his research in the Deseret News and the Salt Lake Tribune.
---
Integrating Geography and Public Health
Geoffrey M. Jacquez, Ph.D, - President of BioMedware, Inc., Chair of TerraSeer, Inc., and Adjunct Associate Professor in the Department of Environmental Health Sciences at the University of Michigan - spoke at the Geography Department's colloquium on March 5th. Dr. Jacquez gave a stimulating talk about ways of exploring the relationship between health and the environment through integrating the disciplines of geography and public health. He addressed problems affecting geospatial health analysis, including geographic complex systems, human mobility, disease cluster morphology, and time-dynamic exposure reconstruction. In all areas, Dr. Jacquez showed that both geographic and public health theories and their analytical approaches play a central role in determining where, when, and who is affected by excess disease risk.
---
Controlling Sexuality
The Barbara L. and Norman C. Tanner Center for Nonviolent Human Rights Advocacy hosted a forum in late February considering how sexuality may be regulated through forms of violence and cultural oppression. The conference was titled, "Controlling Sexuality through Violence, Shame and Cultural Oppression: Implications for Human Rights." "The idea that individuals, institutions and government can use violence, shame and oppression in order to control people's sexuality is a very timely and important topic," said Donald Strassberg, professor of psychology. "It isn't about telling people what to believe. It's about having a discussion about how things are, how we want things to be, and how or why things should be made different." Researchers in the Department of Psychology will continue to explore sexuality and provide further insight into sexuality-related stress. You can read more at The Daily Utah Chronicle and The Salt Lake Tribune.
---
Environmental Impacts of Militarization
A new article co-authored by assistant professor Andrew Jorgenson and Jeff Kentor, professor and chair of the Sociology Department, makes the case that large militaries are a major source of global warming. "Militarization and the Environment: A Panel Study of Carbon Dioxide Emissions and the Ecological Footprints of Nations, 1970-2000," appeared in the February issue of the peer-reviewed journal Global Environmental Politics. This is the first study to analyze the size of militaries and their relative contributions to anthropogenic (human-caused) emissions. In the past, Jorgenson's research has helped develop pieces of federal legislation and policies concerning energy, climate change and other related issues.
---
U Anthropologist Part of Genome Sequencing Team
Chad Huff, who received an anthropology Ph.D. at the University of Utah last year, is part of a team of researchers who recently announced success sequencing for the first time the entire genome of a family. Their work will enable more accurate estimation of the average rate at which parents pass genetic mutations to their offspring. For more information, you can read more here and here. Huff's research focuses on recent human evolution resulting in genetic differences and disease susceptibility both within and between populations. A more complete description of Huff's research interests is available here.