March 2011 Newsletter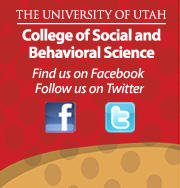 College Kudos
The University of Utah Presidential Commission on the Status of Women and The Women's Week celebration committee announced that Susan Olson, associate vice president for faculty and professor in the department of Political Science, has been named as the recipient of the 2011 Linda K. Amos Award for Distinguished Service to Women.
Susan Olsen was instrumental in developing the University policy for parental leave and successfully guided the proposal trough the U's academic senate and board of trustees.
Every year the Bennion Center honors a faculty member who has demonstrated a commitment to the campus through a life of active, unpaid public and community service. This year the Distinguished Faculty Service Award was presented to Marissa Diener, Associate Professor in Family and Consumer Studies.
Over the past 15 years, Marissa Diener's engagement has covered a range of on-campus and community-based research activities. She has conducted countless community outreach workshops serving primarily parents in the immigrant and refugee populations in Salt Lake.

GRADUATION EXERCISES ON MAY 6th
The University's Convocation and Commencement will be held on Friday May 6th at the Jon M. Huntsman Center. We are proud of our graduates and look forward to recognizing their acheivements at this celebratory event. All are welcome to attend. No tickets are required.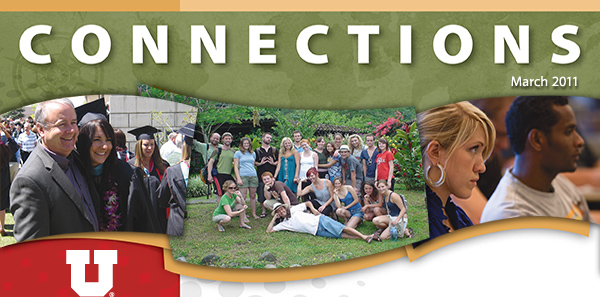 Keeping a Promise and Changing a Life
Shanna Gustin is keeping a promise and changing a life

– her life. In May she will graduate in psychology with a minor in sociology and a criminology certificate. She was a recipient of a CSBS Honor Roll Scholarship her senior year and finished undergraduate studies with a 3.5 GPA. Read more.
---
The U Honors CSBS Alumni at Founders Day 2011
On March 3 the University of Utah Alumni Association presented distinguished alumni awards to four exemplary alumni at the Founders Day dinner. Three of the recipients were College of Social and Behavioral Science graduates.
Afesa M. Adams – earned a master's and Ph.D in psychology in 1973 and 1975 respectively. Currently is senior research associate at the Florida Institute of Education at the University of North Florida.
Robert F. Bennett – political science bachelor's in 1957. Former U.S. Senator from Utah and currently a fellow at the Hinckley Institute.
Robert C. Gay – economics bachelor's in 1976. Currently is managing director and CEO of Huntsman Gay Global Capital.
These recipients gave of their time to students, faculty and staff on March 2 and 3. Afesa Adams spoke on improving diversity in higher education to psychology and family and consumer science students and faculty. Bob Bennett spoke to the Young Alumni Student Association on leadership in government and Bob Gay delivered a Hinckley Institute address on microcredit financing to economics and political science students and faculty. All three recipients have also received distinguished alumni awards from the college – Adams in 2006, Bennett in 2009 and Gay in 2010.
---
Plastic Surgery a Parallel with Consumer Confidence and Spending
Predicting where the economy is headed can be a complicated endeavor. For instance, anyone can get a sense of the economy by walking into a plastic surgeon's office and asking about business. Economics Professor Peter Philips explains how this is possible. As indicated by the type of procedures being done such as facelifts, tummy tucks, etc. we can gauge the hardest hit group. "The older patients that have probably seen their savings get demolished or their 401Ks decrease [have suffered the most]," says University of Utah Economic Chair, Peter Philips. "There are a lot of signs showing that we are starting to recover," he says. "At the beginning of 2008, the employment fell for two years. It bottomed out at the end of 2009. Yes, I think we've hit bottom, I think we're bouncing off that bottom and, yes, I see the light at the end of the tunnel, but there's still a long way to go." Philips and Mobley suggest that it could take Utah up to five years for the economy to return to 2007 levels. See the interview.
---
Oil, Unemployment, and Revolution
Tuesday, February 8th Professors Hakan Yavuz, Ibrahim Karawan, and Peter Von Sivers conducted a forum on the events taking place in Egypt and elsewhere as a result of the volatility affecting the region. The discussion was held at the Hinckley Institute. The effects of oil on Middle Eastern economies in particular were discussed in addition to oil's subsequent effects on political and military consequences. According to Yavuz, economic disparity, population growth, autocratic governance, and high unemployment were considered the primary causes for the unrest in this part of the world. He also claimed that technology and social media coupled with a decline in American hegemony fomented revolution. The consensus was the outcome of these events were probably going to vary significantly but definitely going to mystify. Listen to see what the Professor's predictions are.
---
"Where Psychology Meets Technology" Symposium
The psychology department conducted a symposium about the relations between psychology and technology. Four presentations were held asking questions such as "Technology in Health Care: Friend or Foe?" and "Embodiment in Perception: What Have We Learned from Virtual Reality?" Drs. Creem-Regehr, Drews, Sansone, and Strayer gave presentations on the topic Friday, February 15th. Other questions posed included: Does the internet help our learning or adversely affect it? Is IBM's Watson really our friend? What are the risks of integrating technology with our vehicles? Explore these questions and more here.
---
Geography Student Goes Bi-Polar
Associate Professor of Geography Rick Forster and two graduate students, Evan Burgess and Clement Miege, left for the Arctic Circle Traverse in 2010 where they studied the ice sheets of Greenland. There they measured the layer thickness of the ice among other things. Clement was also in Antarctica from November to December in 2010. It is a rarity to traverse both poles of the earth in the same year termed "going bi-polar" in the glaciology community. At the end of March 2011 they will once again be heading back to Greenland where Forster mentioned, "Both students did a fantastic job last year and have been busy preparing for this field season." They will be studying the ice sheet during April and May. To see more on their research, information about the forbidding weather, trip logs, and an interactive map head to the ACT website.
---
Water Kills More People Than War
Last year the United Nations issued the statement, "every year, more people die from the consequences of unsafe water than from all forms of violence, including war." Bearing these sentiments in mind, experts and human rights advocates discussed the challenges surrounding the challenges of water February 23-25 at the Barbara and Norman Tanner Center at the University of Utah (stream videos from the conference here.) Discussing international water issues in a land-locked state may seem counter-intuitive, however lessons learned in the Intermountain West and rural U.S. may provide answers for the estimated one billion people who lack access to clean water around the world. Check out www.humanrights.utah.edu for more information of the events that took place.