June 2010 Newsletter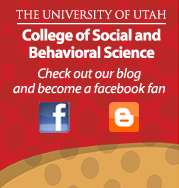 MESSAGE FROM THE DEAN
As the fiscal year draws to a close this month, I would like to recognize and applaud CSBS faculty for an extraordinary effort with respect to extramural research funding. For this fiscal year, college faculty will have submitted a total of $30,308,563 in grant proposals. That's a remarkable 97% increase over 2009 numbers, when $15,362,954 in grant proposals were submitted. This is a wonderful initial step as the college moves to heighten its research profile, both locally and nationally. The college already boasts some nationally and internationally respected researchers, with the challenge ahead to make efficient and effective use of our senior leaders mentoring junior faculty. I hope you all are enjoying a rewarding and restful summer.
Regards
M. David Rudd
Dean
PAC-10 membership will boost all things at the U, but is there a catch?
The invitation to the PAC-10 was a long anticipated opportunity for the University. The elation for the accepted invite was almost unanimous between sports fans and academics alike. Membership in the major conference has far reaching implications for both groups. But what are the potential negatives? How does the University become aware of and then try to avoid the pitfalls of some of their well-publicized PAC-10 brethren? CSBS Dean, David Rudd, weighs in on the topic in a recent article featured in the Salt Lake Tribune.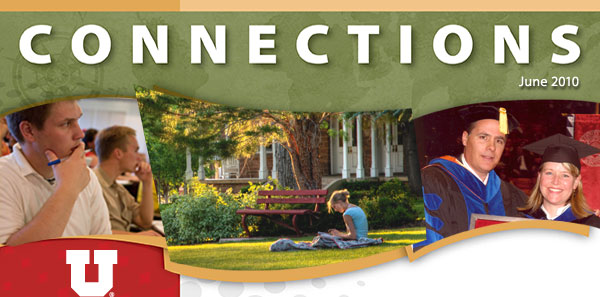 Commencement / Convocation 2010!
This year CSBS again graduated the most students

of any other college at the University. Approximately 26% of all undergraduate degrees were awarded from our college as well as 150 graduate degrees. (Read more)
---
Three More Added to CSBS Distinguished Alumni Ranks
The CSBS annual distinguished alumni luncheon was held Thursday, May 6 at the Alumni House. Three alums were honored including:
Bob Gay, economics bachelor's in 1976
Judge J. Thomas Greene, political science bachelor's in 1952 and juris doctorate in 1955
Paul Y. Hammond, political science bachelor's in 1949
CSBS distinguished alumni are selected by an advisory board committee working with the dean. Recipients are college alumni who are giving of their time, talent and substance to their profession, their community and to the University of Utah. Read more about the 2010 distinguished alumni.
---
CSBS and College of Law Combine Efforts to Help Veterans and their Families
On May 10 President Michael K. Young announced the University of Utah National Center for Veterans Studies at a press conference held in the Sutherland Moot Courtroom of the S.J. Quinney College of Law. The NCVS' mission is to improve the lives of veterans and their families and will be operated by the College of Social and Behavioral Science and the S.J. Quinney College of Law. All local major news outlets attended the announcement where they listened to descriptions of the center from David Rudd, dean of the College of Social and Behavioral Science, and Hiram Chodosh, dean of the College of Law. Senator Bob Bennett also attended and addressed the media. To read the NCVS press release please click here. For more information, visit the NCVS website.
---
How many of us really are "multi-taskers"?
According to Jason Watson and David Strayer: very few. Although many of us probably consider ourselves to be able to do several things at once reasonably well, newly published research by these psychology professors says otherwise. Only few of us qualify as true multi-taskers referred to in the research as "super-taskers". According to the data only about 2.5% of the population falls under this category. A "super-tasker" is someone who has the ability to perform two tasks simultaneously without noticeable impairment in either task. The rest of the 97.5% of the population experiences impairment in at least one of the tasks but almost always both. This research was mentioned in a New York Times article on multi-tasking and will be featured more in subsequent articles. Read more about the potential detrimental effects of multi-tasking in the NY Times.
---
Hainan students Study for Their MPA
Since 2008, the University of Utah has been privileged play host to cohorts of Public Administration graduate students from Hainan Province, China. The students, all of whom work as mid-level public employees, are nominated by their employers and interviewed by faculty and staff in a highly selective admissions process. Once here, the students selected for each 25-member cohort live and study together. After an intensive 17 month program, the students return to their places of employment with a degree and much-improved job prospects. "The University of Utah's international reputation for excellence is spreading," says Craig Nielson, Hainan Project Coordinator. "Our Hainan graduates have returned to China, and have been promoted. Their workplaces are benefiting from the public management education they receive here, and their coworkers, as well as the leaders of other provinces, are taking note. It's a very exciting time for us." Hainan Province is located on a tropical island approximately 40 miles south of mainland China. The third cohort of Hainan MPA students arrives in August of this year. For more information visit the MPA website.
---
For Father's Day: Dads Matter!
The role of the father in the family is a much studied subject. Is it the time a father spends with the kids, the quality of that time, or is it important that dads spend time at all? FCS professor Don Herrin gives his opinion in a recent Salt Lake Tribune article highlighting the importance time and type of time spent, level of engagement, and quality of relationships dads should have with their kids. Read more here.
---
Is Marriage Good for Your Health?
A recent article in The New York Times Magazine explores the effect of the supposed "marriage advantage," suggesting that better health for married people may not always be the case. Contemporary research evaluates many other factors involved more than just simply being married or single. In this article psychology professor Tim Smith discusses how the quality of the relationship and the support that spouses give one another is a better indicator of good health than just being married. Read the full story in The New York Times Magazine.
---
Volcanic disruption of air travel: Geography saw it coming
Jeff VanLooy, who received his PhD from the U's geography department, predicted the potential disruption a volcano such as Eyjafjallajokull could cause to airline travel. In a study published in 2007, Jeff synthesized the factors such as prevailing winds, flight path geometry, and traffic volumes into a GIS-based method. He performed a comparative study of the vulnerability of two northwestern airlines to a Mt. Adams eruption in Washington. Coincidentally, on the same weekend that Jeff presented this work at the Rocky Mountain Regional AAG Conference (October 2, 2004), Mt. St. Helens erupted and grounded many flights around Portland International Airport (Jeff subsequently won the Best Student Paper Award).
---
Dr. Zachary Zimmer Goes to Cambodia
IPIA professor Zachary Zimmer recently had the opportunity to go to Cambodia to study some of the social behavior of rural Cambodians. Partnering with local organizations Dr. Zimmer studied reasons why some residents of rural Cambodian towns where relocating to bigger cities and the impact that had on older adults and families of the community. Read more about Dr. Zimmer's trip here.