February 2010 Newsletter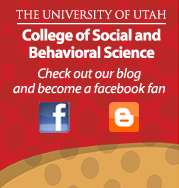 Message from the Dean
I know that you've heard the U is a world-class university. Let's include the College in that discussion. As you'll see in the adjoining column, the College of Social and Behavioral Science was ranked among the top 75 in the world, a truly remarkable accomplishment. Please join me in congratulating our faculty, staff and students for their dedication, creativity and exceptionally good work. As the collection of stories in this issues demonstrates, we have a talented group of faculty, with expertise cutting across every department. Please enjoy the faculty blog and take advantage of the opportunity to interact. I hope that 2010 is off to a good start for you and yours. If you have thoughts you'd like to share, please don't hesitate to contact me.
Regards
M. David Rudd
Dean
1st Annual Legislative Policy Summit and the CPPA
On Friday, January 15, the College's Center for Public Policy and Administration co-sponsored the first annual Legislative Policy Summit. Participants included Gov. Gary Herbert, top legislative leaders, a distinguished panel of economists and tax experts and David Broder, long-time political reporter and columnist for the Washington Post. Most notable for the College was CPPA Associate Director Jennifer Robinson's presentation of the 2010 Legislative Policy Summit Survey — conducted by Dan Jones and Associates. The survey measured public attitudes and opinions towards several issues facing the state this year.
View the survey results.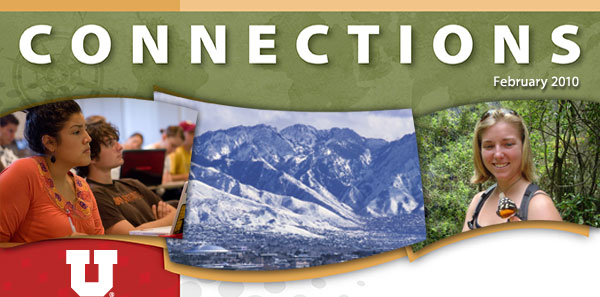 The University of Utah and College of Social and Behavioral Science Make World-Class List
The University of Utah was recently ranked among the top 100 universities worldwide by the Center for World-Class Universities coming in at number 80. Helping the U to this prestigious ranking was the College of Social and Behavioral Science which ranked in the top 75 as a college and featured the economics department also within the top 75. (Read more)
---
Keeping Culture and Identity Alive
One of the weaknesses or sins of anthropologists is that they often take the material and publish it but they don't give in return. "That is why we started the project — we realized there was a place that needed cultural education."(Read more)
---
Faculty Blog: Improving Voting — Is it all about technology?
Since the 2000 election, academics have been working with election officials and policy makers to improve the electoral process. The initial examination of the 2000 election suggested that the problems in Florida were all about the voting technology people used to vote — the punch card voting machine.
---
Preventing Distracted Driving...
As a follow up to our profile of David Strayer in December we offer several links for those interested in the prevention of distracted driving. Frank Drews, a co-researcher with Strayer here at the University of Utah, has published a study on text-messaging and driving. We also link you to "Car Talk" which offers a number of articles written by Strayer. Finally, please look at HB0237— the bill in the Utah legislature sponsored by Phil Riesen that would make it unlawful for drivers 18 and younger to drive and talk on a cell phone at the same time.
---
U Professors Discuss Financial Crisis
Peter Phillips, chair of economics at Utah; Hans Ehrbar and Lance Girton, both professors of economics at Utah; Scott Schaefer, professor of finance at Utah; and Tishun Deng from Goldman Sachs gathered at the Hinckley Institute to offer multiple perspectives on the economic downturn.The discussion is a year old but still applicable and informative today.
---
FCS and Google Assist Autistic Children
The Department of Family and Consumer Studies teamed up with Google and Universal Creative to demonstrate how the Google software program called SketchUp might enhance development in some children with autism spectrum disorder (ASD). The focus of the event was on special abilities and not the disabilities of autism, said Cheryl Wright, FCS chair. The free workshop and tutorial was held for parents and teachers of children with autistic characteristics and offered a hands-on approach for SketchUp, which was used in designing Harry Potter, Transformers and other films. "You're only limited by your imagination because you can really do anything you possibly want, said Steve Michael Gross, Universal Creative designer." If you can think it, you can do it with SketchUp, and you can do it quickly." You can read more about the event at UNews or KSL or to learn more about Google SketchUp, visit Project Spectrum.
---
Remote Sensing in Greenland
Associate Professor of Geography Rick Forster Ph.D. will journey to Greenland to research snow accumulation on a, roughly, two-mile-thick ice sheet this April. Alongside Forster will be two University of Utah Geography graduate students and an Ohio State colleague. "We will be taking samples of the ice below the surface where you can see the individual layers," Forster said. "Each layer represents a year, similar to a vertical tree ring, and snow accumulation can be measured year after year." A radar that measures layer thickness will be pulled behind the snowmobiles used to make the 400-mile traverse, allowing them to trace the layering to see how much it varies in space. "It is going to be quite an adventure," he said. Forster received the 2009 ASUU Student Choice Award recognizing his outstanding teaching. The award highlights the connection between students and teachers, and celebrates transformative experiences within the classroom.
---
Submissions for Social Dialogue Due
In 2007 the Department of Sociology graduate students took the initiative and created the student publication Social Dialogue. The mission of the academic journal, administered by the graduate students, is to bridge the gap between the University and the greater civic community, said Daniel Poole, editor in chief for Social Dialogue. "We do this by providing students the opportunity to publish research which focuses on socially relevant issues," Poole said. "We encourage readers to engage in a dialogue by submitting responses in print and online." An extended online version of the journal will be offered with the next edition available on Saturday, Mar. 27, 2010.
---
Call for Nominations: Distinguished Alumni
We invite you to nominate candidates for the Distinguished Alumni Award. Recipients are graduates of the college who are excelling in their profession, involved in the community or giving back significantly to The U. Read more