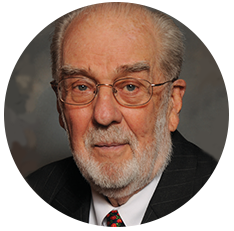 Vico Henriques
BS Political Science
CSBS Advisory Board
University of Utah
Vico E. Henriques earned a bachelor's in political science from the University of Utah in 1956 and went on to do graduate studies in public administration and mathematics. He was honored as one of the College's Distinguished Alumni in 2013. Vico's studies at the U were interrupted from 1950 to 1954 when he served in the U.S. Army where he was decorated and earned a battlefield commission during the Korean War.
Vico began his career at the National Bureau of Standards in the early days of the computer. He wrote code, designed circuits and managed operations research for a number of federal agencies. Vico's early years led to a career traveling the world encouraging the development of computer standards to allow hardware and software compatibility and to foster communication and information sharing. Vico spent 17 years as president and CEO of the Computer and Business Equipment Manufacturers Association where he oversaw the organization's efforts in creating standards, privacy and security, intellectual property, telecommunications and international trade.
Throughout his career, Vico has also taught at a number of universities including: American, George Washington, New York, Syracuse and The State University of New York. He was a member of the advisory board to the NYU Stern School of Business and is currently serving a third term on the CSBS advisory board.
Vico and his wife Pat have given significantly to the college. After a number of years providing a CSBS Honor Roll Scholarship, they endowed the scholarship and delight in getting to know the student recipients each year. For eight years, Vico volunteered as a zookeeper's aid in the Greater Ape House at the Smithsonian's National Zoo in Washington D.C.
Vico has two children and five grandchildren. He and Pat currently reside in Salt Lake but call Arlington, VA home.