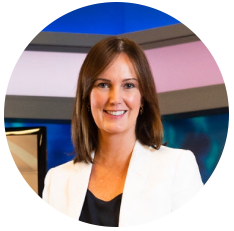 Tanya Vea
BA Sociology; BA Mass Communications
Exec. VP, News & Cross Platform Development
KSL 5 TV & KSL NewsRadio
Tanya Vea is the Vice President and General Manager of Bonneville Salt Lake City, which includes KSL TV, KSL NewsRadio (FM 102.7), KSL Sports, FM 100.3 (KSFI) and 103.5 The Arrow (KRSP). She is the first woman to hold that position in Utah. Tanya joined Bonneville in 2010 as the executive vice president of cross-platform development and helped lead the formation of a combined news division, bringing together TV, radio, web and newspaper.

Tanya spent more than a decade with the CBS owned-station group where she was an award-winning journalist, held several news management positions, including news director, and led news operations through a station acquisition. Tanya also worked for Kim Brown & Associates, an advertising agency, where she was a senior account executive and led the public relations team.

A Salt Lake City native, Tanya graduated from the University of Utah with degrees in Broadcast Communications and Sociology. She was recognized with the University of Utah Quintus C. Wilson Alumni Award in 2008, and with the Society of Professional Journalists, Josephine Zimmerman Pioneer in Journalism Award in 2015 Tanya serves on the board for United Way of Salt Lake, The Larry H. Miller Charities, The Adoption Exchange and The Utah Debate Commission. In 2018 Tanya was appointed to the Governor's task force on suicide prevention. She is actively involved in the community, and is an advocate for Primary Children's Hospital, and many other local organizations. Tanya is married and has one son.
WHAT HAS YOUR DEGREE MEANT TO YOU?
As a journalist I was able to use areas of my degree in social and behavioral science in very practical ways, on an almost daily basis. Having a better understanding of the criminal justice system, ethnic studies and how those intersect with broader societal issues helped me be better informed in my work. I got my degree in Sociology because I was personally interested in the course-work. At the time I didn't really see how it would be applicable to my career. In hindsight, it's had an incredible impact.