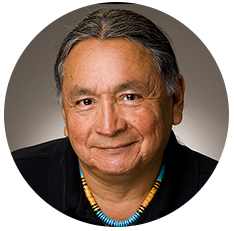 Michael E. Bird
BS Anthropology; MSW; MPH
National Consultant
National Policy Council for AARP
Michael E. Bird is a Santo-Domingo/KEWA Pueblo Indian from New Mexico. Mr. Bird has more than 30 years of public health experience with Native American populations in the areas of medical social work, substance abuse prevention, health promotion and disease prevention, HIV/AIDS prevention, behavioral health, and healthcare administration.
Mr. Bird was the first American Indian to serve on the National Policy Council of AARP. From 2005 to 2007, he served as the Director of Region 6 for Native Americans with ValueOptions-New Mexico, a national for-profit behavioral health company. He is past executive director of the National Native American AIDS Prevention Center, and worked with the Indian Health Services (HIS), an agency of the Department of Health and Human Services, for 20 years.
Mr. Bird is the first American Indian and social worker to serve as President (2000-2001) of the American Public Health Association in the organization's history. He is also Past President of the New Mexico Public Health Association and was a fellow in the U.S.P.H.S. Primary Care Policy Fellowship Program.
He has served on the boards of the Kewa Pueblo Health Corporation, American Indian Graduate Center, Bernalillo County Off Reservation Native American Commission, Health Action New Mexico, Seva Foundation, National Collaborating Centre for Aboriginal Health Advisory Committee (Canada) and AARP National Policy Council.
Mr. Bird earned a master's degree in Social Work from the University of Utah, and a master's degree in Public Health at the University of California, Berkeley. In 2009, he was recognized as Alumnus of the Year by the School of Public Health at UC Berkeley. In 2018 he was recognized by the University of California, Berkeley School of Public Health as one of 75 Most Influential Alumni in the 75-year history of the School of Public Health.