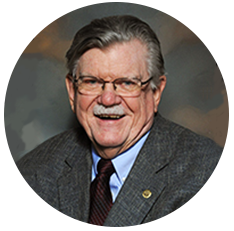 Judge Bruce S. Jenkins
BS Political Science
Senior United States District Judge
State of Utah
Judge Bruce S. Jenkins graduated magna cum laude in political science from the University of Utah in 1949, and went on to earn a juris doctor from the S.J. Quinney College of Law in 1952 where he wrote for the Utah Law Review.
Bruce is a United States Senior District Judge. In 1978, he was nominated as a U.S. District Judge by President Jimmy Carter and confirmed by the U.S. Senate. He became Chief Judge in 1984 and stepped aside on May 28, 1993. Under Bruce's leadership the court automated and computerized administrative, record-keeping and research functions, reorganized the clerk's office and probation department and remodeled the federal courthouse.
At age 25, Bruce became a member of the Utah State Bar and the Bar of the United States District Court, District of Utah. At age 31, he was appointed a member of the Utah State Senate and was twice re-elected. As a senator, Bruce was minority leader and later elected president.
Bruce has received numerous awards including the Utah State Bar's lifetime Service Award, the Emeritus Merit of Honor Award by the University of Utah Alumni Association and the Alumnus of the Year from the S.J. Quinney College of Law. He has authored numerous opinions, articles and commentaries on legal subjects.
Bruce married Margaret Watkins of Great Neck, New York and has four children – two boys and two girls. He is a photographer, book collector, and a student of history and language.