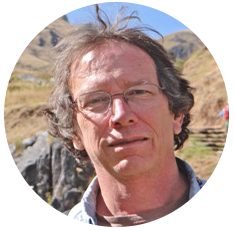 Oakley Gordon, PhD
BS Psychology; MS Psychology; PhD Psychology
Associate Professor
University of Utah
Oakley Gordon received his bachelor's, master's, and Ph.D. in psychology from the University of Utah. He is now an adjunct professor of the department studying the epistemology of the indigenous people who live in remote villages in the high Andes of Peru.
He received his doctorate in cognitive psychology (the study of perception, learning, memory, and consciousness) from the University of Utah in 1984. For fifteen years he taught psychology at the Southern Utah University, eventually becoming a tenured full professor. In 2001, he moved back to Salt Lake and became a part-time associate professor (Career-Line Lecturer) teaching statistics classes for the psychology department.
His research interest is in the Andean Cosmovision, a way of perceiving and interacting with reality that has its roots in the traditional, indigenous culture of the high Andes. The Cosmovision provides a path for exploring aspects of ourselves and reality that fall outside of the Western worldview. It also nourishes a more loving and mutually supportive relationship between ourselves and nature.
He has been studying the Andean Cosmovision for over 22 years, which has included 16 trips to the high Andes of Peru to work with paq'os (Andean mystics) and indigenous healers.He has shared the Cosmovision with Western society through papers at academic conferences, published articles, presentations to the public, an extensive blog, his book, and several hundred experiential classes and workshops.