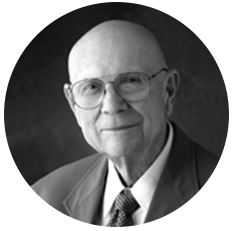 Earl Skidmore
BS Sociology;BS Anthropology
President (retired)
Northern California Chemical Association & Esbro Chemical
Earl S. Skidmore earned a bachelor's degree from the University of Utah where he majored in Sociology and Anthropology and earned minors in Zoology and Chemistry. Earl's studies at the University were interrupted by two years of service in the U.S. Navy. Later in his career, Earl returned to higher education earning a Ph.D. in Chemistry from Stanford University.
Earl entered the University in 1942 and was a freshman member of the Assembly Committee. He played for Utah's basketball team in 1942-1943 and was active in Sigma Chi. In fact, Earl's wife, Elies, was the "Sweetheart of Sigma Chi." The two were married in 1947 following Earl's graduation.
Earl began his career working for Phillips Petroleum in Spokane, Wash. After three years, he moved to the San Francisco Bay area and eventually owned and operated four gas stations _ Skid's royal Stations. In 1958, Skidmore sold the stations and began Pressure Vessel Service _ a chemical company specializing in handling corrosive chemicals and creating a variety of chemical solutions. Earl devoted over 30 years to PVS and to the chemical industry, serving as president of Esbro Chemical and president of the Northern California Chemical Association.
Three examples illustrate the array of work Earl did at PVS. His company created a sanitary wash still used today to clean pre-packaged vegetables. When Boeing first constructed the 747, PVS provided a solution in which the landing gear struts were bathed. Perhaps most interesting, the company worked with NASA to improve the performance of panels on the space shuttle as it re enters the earth's atmosphere.
Earl has been a leader in professional and community associations throughout his lifetime. He was president of the board of directors for United Stations while working in the retail gas industry. He was on the board of directors of the San Carlos Chamber of Commerce and president of the San Carlos Optimist Club. Earl also served on the boards of three Silicon Valley electronics companies. Earl and Elies have given scholarships to CSBS students for several years. In 2007, they endowed this scholarship.