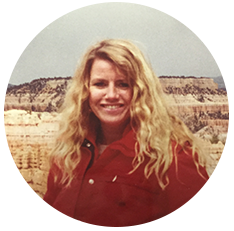 Christine A. Currey (1950 ~ 2014)
BS Psychology; MS Psychology; PhD Psychology
Clinical Psychologist
Juvenile Court, Primary Children's Medical Center and the University Neuropsychiatric Institute
Christine Currey grew up in Lewiston, New York. She graduated from Hope College in Holland, Michigan where she was Phi Beta Kappa. She studied clinical psychology at the University of Vermont and then at the University of Utah where she received a master's degree and a Ph.D. She worked at the Juvenile Court, Primary Children's Medical Center and the University Neuropsychiatric Institute. She had a very active private practice. She cared very deeply about the needs of her patients and she helped thousands of patients over the years. She published widely and many people have benefited from her insights on quality of life and correctly diagnosing conditions which might appear to be psychologically-based but which are actually medical illnesses.
Chris had an unmatched set of skills and experiences. In addition to her work as a clinical psychologist, she was a skilled skier, water skier, windsurfer, hiker, fly fisherwoman, racquet ball player, tennis player, painter, sculptor and classical pianist. Her search for adventure resulted in pursuing skydiving, micro-lifting, pilot training, riding a horse named "Frenchie" in the Bison Roundup on Antelope Island and river running. She ran some of the most challenging rivers in the world (in Utah, Colorado, New Mexico, Alaska, Montana, Idaho, Costa Rica, New Zealand, Zimbabwe, Colombia, and Croatia).
Chris was an avid world traveler (61 countries). Although she always had a lot of fun, she was not just traveling as a tourist--she was very interested in the people and the cultures. She always found a way to give something back to the places she visited. For many years, she contributed to an orphanage in Thailand and to another in Indonesia. She spent a week in Paris in the fall of 2014 and loved every minute. Generosity was one of Chris' major hallmarks. She always looked for a way to give to others. One of her approaches was to pay for the groceries of someone in the checkout line who seemed to be in need. Those individuals never knew that it was Chris who paid their bill.
Chris married Tom Schenkenberg on 12/16/81. She is the love of Tom's life, forever. She and Tom had many adventures together filled with joy and laughter. Chris designed the home that they built together at Emigration Canyon and have lived in for 30 years. They are partners in all things. She loved her family so very much, as they loved her. She also loved her many friends from around the world. She always made friends easily with her incredible smile and enthusiasm.