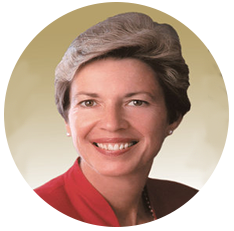 DeeDee Corradini (1944 ~ 2015)
MS Psychology
Businesswoman, Politician
Salt Lake City, Utah
Deedee Corradini was born Margaret Louise McMullen (although Deedee was a childhood nickname) in Providence, Rhode Island. She attended school in Lebanon and Syria for 11 years as a child. She received a Bachelor of Arts from Drew University in 1965, and a Masters degree in Psychology from the University of Utah. She served as Press Secretary to Congressman Wayne Owens of Utah and Rep. Richard Ottinger of New York in the early 1970s.
Deedee Corradini served as mayor of Salt Lake City, Utah from 1992 to 2000 and was Salt Lake City's first and to date only female mayor. Under her watch as mayor, the city's population experienced a tremendous growth spurt, as the metropolitan area of Salt Lake City and the rest of the state began to grow by thousands of families a month. During her tenure, Corradini pushed hard (and ultimately successfully) for the relocation of the Union Pacific railroad tracks that divided downtown, pushed through the TRAX light-rail system, and won massive federal funding for reconstruction of the freeway system in advance of the Olympic Games (one of the largest single public works transit projects in recent American history). Corradini's efforts gave Utah the initial shove that landed the state the 2002 Winter Olympics. She was the first woman to receive the Olympic flag in front of a television audience of hundreds of millions of viewers, when it was passed to Salt Lake City at the closing of the 1998 Winter Olympics in Nagano, Japan. She also was the guiding force for the construction of the popular baseball stadium for the (then) AAA Salt Lake Buzz, at the time, the farm team for the Minnesota Twins) and the redevelopment of a 50 year old rail yard into the 30 acre, $375 million Gateway District mixed-use development, resulting in two million square feet of shops, restaurants, office space, and housing, as well as a 12 screen movie theatre a planetarium as well as plans for a children's museum.
Corradini served as the President of the U.S. Conference of Mayors in 1998. She was also President of the International Women's Forum, Chair of the Utah Symphony Board of Directors, of which she was a Lifetime Board Member. Corradini died from non-smoking related lung cancer on March 1, 2015 at the age of 70.