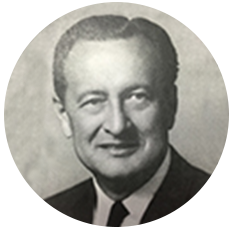 J. Ralph Brown
Friend of CSBS
Joseph Ralph Brown was born in Brigham City on May 11, 1914. His parents were Archie Lee Brown and Florence Thorne Brown. He had two older brothers, and eventually three younger sisters.
The family moved into Salt Lake City when he was two years old. He attended public schools there, graduating from East High School and then the University of Utah in 1935. While at the University of Utah he was a member of Sigma Nu Fraternity, a class officer, business manager of the campus magazine, and he was selected to both Skull and Bones and Owl and Key (both groups that recognize prominence in both scholarship and campus activities).
He moved to New York City for post-graduate school, attending Columbia University and working in the trust department of First National Bank for two years, after which he moved to Los Angeles to work for the Southern California Gas Company. In 1940 he married Lucille Adams, in Los Angeles. He was drafted into the Army Air Corps at about the same time.
He was in the military for two and a half years. During this time he was overseas in both England and France. After his return from Europe and a brief time in Los Angeles, he moved his family to Honolulu in 1947 to accept a job with State Savings and Loan Association. He and Lucille spent most of the next thirty years in Hawaii. Brown became manager of the Hawaii Division of State Savings in 1962, and president and general manager of the whole company in 1971. While in Hawaii he was very active in civic affairs. He was always interested in politics and was the treasurer of the state Democratic Party.
His interest in education found him involved in the P.T.A. He was Territorial President for five years. He also served on the National P.T.A. board for seven years, three of these years as National Citizenship Chairman. He was elected to the Hawaii State School Board in 1967. He was president of the Friends of the Hawaii State Library from 1960 to 1965.
Brown was also busy with community service organizations. He was a member and an officer in the Kiwanis Club of Honolulu, the Honolulu Realty Board, World Brotherhood the Hawaiian affiliate of the National Council of Christians and Jews), the Honolulu Symphony Society, the Honolulu Chamber of Commerce, the YMCA, and the Honolulu City Ethics Commission.
Brown felt strongly that good citizens should contribute to their communities by being active and involved, but his first love was always his family. He was a kind, caring, and generous husband, father, and grandfather. One of his and Lucille's greatest concerns was to help provide for the education of their four grandchildren. Shortly after Brown's death, Lucille extended the family support of education even more by creating the J. Ralph Brown Memorial Scholarship Fund in the Department of Political Science at the University of Utah.