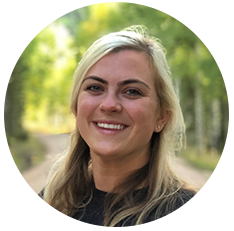 Abbirose Polityka
BA Human Development & Family & Consumer Science
Long-Term Care Ombudsman
Salt Lake County
Abbi provides services with respect for human dignity and promotes the individuality of the residents unrestricted by considerations of age, social or economic status, personal characteristics, sexual orientation or lifestyle. She strives to respect and promote residents' rights of self-determination, making every reasonable effort to act in accordance with residents' wishes. AbbiAbbi also participates in efforts to promote a quality long-term care system.
About her time at the U and how her major benefitted her, Abbi stated:
"I was undecided when I first came to the U of U of what exactly I wanted to do. After talking with Jenny we decided that FCS was the right department fit for what I strived to do. Before, finding this great fit I struggled with wanting to go to classes or even wanting to complete college. After starting in this major and especially taking Sonia Solari's Family Violence class I realized how strong of a passion I had for wanting to advocate for individuals rights. It is why I chose to become an advocate for long-term care residents and I am very grateful to have had the experience of a great education at the University of Utah."