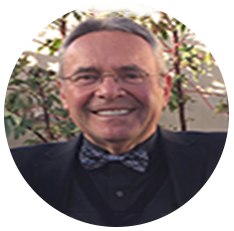 Richard Simpson
BS Economics; PhD Organizational Psychology
Chief Academic Officer & Senior Vice President
Zenith Education Group
Dr. Simpson is an innovative educator with over 30 years of demonstrated exceptional experiences in teaching, consultation, administration, leadership and scholarship in large-scale higher educational settings both on-ground and online. He has an established record in strategic planning, fiscal management, resource allocation and the supervision of large divisions of personnel. He has a deep understanding of the teaching mission and a strong commitment to providing students with the highest quality educational experience.
In addition to serving the academic world, Dr. Simpson has also been an organizational consultant, working with clients in private and public sector agencies, state agencies, and health care institutions. His consulting experiences produced valuable insights to share in both his classroom instruction and in his writing.
Dr. Simpson served as a Trustee for two regionally accredited colleges-Everest College Phoenix in Phoenix, Arizona and for Heald Colleges, San Francisco, California. His leadership within these Board positions has been to guide and support the campus presidents and academic teams serving the mission and purpose of their institutions.
As of January 2016, Dr. Simpson has initiated a new enterprise (Rick Simpson & Associates) operated out of his Salt Lake City, Utah office providing higher education leadership and workforce development consultation services. He is focusing on supporting senior leadership in higher education institutions nationally and internationally as they plan, develop and execute on critical agendas for student success, faculty development, curriculum mapping to the marketplace and long term financial and administrative productivity. Dr. Simpson is also serving as a guest lecturer at the University of Utah in the graduate program in public administration.
In early 2015, Dr. Simpson assumed the role of Chief Academic Officer and Senior Vice President for Zenith Education Group, subsidiary non-profit educational institution (of ECMC) established to serve the needs of a large population of students seeking an education and path to an exciting career opportunity with an employing organization. Zenith Education Group has assumed the position of the largest non-profit career educational system in the US.
From June of 2008 to the end of 2014, Dr. Simpson served CCI (a large publically held career college system) as their Chief Academic Officer and Senior Vice President for Academic Affair. His leadership and oversight supported over 100 campuses and over 100,000 students across the US and Canada pursing education leading to employment readiness and placement with organizations in health care, business, criminal justice and the trades.
In addition to his doctorate in organizational psychology from the University of Utah, Dr. Simpson holds a master's degree in economics from the University of Utah and a bachelor's degree in biology from Colorado College, in Colorado Springs, Colorado. His diverse educational portfolio positions him well for a variety of educational endeavors.