May 2011 Newsletter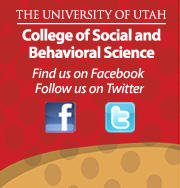 Geist Gets Book Award

Claudia Geist, assistant professor in the department of sociology, has received the 2011 William J. Goode Best Book Length Contribution to Family Sociology Award for the co-authored book Counted Out: Same Sex Relations and Americans' Definition of Family. The award recognizes the best book published on the family and is awarded annually by the American Sociological Association's Section on the Family. Counted Out examines public opinion to understand how Americans define family and predicts how Americans' definitions of family may change in the future. It demonstrates the change in Americans' attitudes toward same-sex couples and shows that "who counts as family" has real policy implications, including issues of health insurance coverage, child custody, and estate rights.
In Other News
Read newsletters from some of our departments and programs:
• CPPA Policy Perspectives
• Geography Connection
• Hinckley Institute of Politics
• Psychology Newsletter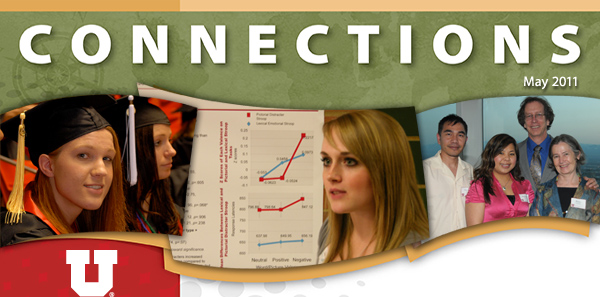 Twenty Percent of U Graduates are CSBS Students
David Rudd, dean of the College of Social

and Behavioral Science, congratulated graduates at convocation held Friday, May 6 in the Jon M. Huntsman Center. The college awarded 1400 bachelor degrees and 150 graduate degrees – 20 percent of all degrees awarded at the U in 2011. Read more
---
CSBS Honors Four at Distinguished Alumni Luncheon
Family, friends and faculty gathered to honor distinguished alumni from the College of Social and Behavioral Science on Thursday, May 5 at the Alumni House. Honored as distinguished alumni were: Clark D. Ivory, Political Science in 1988; Judge Raymond S. Uno, Political Science in 1955; Dr. Barbara Vance, Family and Consumer Studies in 1956. Dean David Rudd also awarded an honorary distinguished alumni award to Dr. Irwin Altman, an emeritus professor of psychology who served as a department chair, dean of CSBS and a vice president at Utah. Photos from the event. Read more about the recipients.
---
50 Students Participate in First Annual CSBS Research Day
The interior walls of Orson Spencer Hall were papered with research posters from April 28 through May 9. Fifty students – 31 graduate and 19 undergraduate – participated in this first annual event organized by associate dean for research, Jessie Fan. Three winners were selected from both the graduate and undergraduate submissions. See the list of winners.
---
CSBS Celebrates Students and Faculty
Dean David Rudd hosted nearly 200 students, faculty, donors and friends of the college at the annual Awards Dinner in April. All enjoyed good food and conversation backed by a jazz ensemble from the U's school of music on the top floor of Rice Eccles Stadium Towers. Dean Rudd recognized 31 students who will receive CSBS Honor Roll Scholarships in 2011-2012 and 16 additional undergraduate and graduate students who have earned other CSBS scholarships and fellowships. The college also recognized the first ever team of CSBS Ambassadors – a student leadership team from within the college who assist the dean's office with events and help engage students in learning and philanthropic opportunities. The college also awarded superior teaching and research awards to four outstanding faculty members. View photos from the dinner.
---
CSBS Professors Discover that Moms of Twins Live Longer
A study on moms of twins by two CSBS researchers has garnered significant attention including an article in The Economist. Ken Smith, a demographer and professor in family and consumer studies, and Shannen Robson, a doctoral student in anthropology, used data for 58,786 women from the Utah Population Database to complete the study. Read the Utah press release about the study.
---
Big Shake-up in D.C. won't Lead to Big Changes in Abortion Politics
Thad Hall, an associate professor in political science at Utah, was interviewed by Radio West's Doug Fabrizio in April. Hall noted that big changes in congressional majorities don't mean big policy changes but that small changes steadily move policy. This process, called, "incrementalism," is exemplified by abortion politics in the U.S. according to Hall. Listen to the interview.
---
Utah's Ambivalent Immigration Policy
Ken Jameson, economics professor at the U, has written a piece tracing Utah's attitudes and efforts on immigration. The article is informed by statistics taken from the Utah Population Database and a collaboration of a number of CSBS professors. Read Professor Jameson's article.