March 2012 Newsletter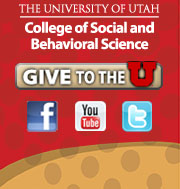 COLLEGE KUDOS

Randy W. Cardon, environmental and sustainability studies student and gunnery sergeant of the U.S. Marine Corps, was awarded the 2012 Founders Day Scholarship. The $6,000 scholarship, awarded by the University of Utah Alumni Association, recognizes students who have overcome difficult life circumstances or challenges and who have given service to the University and the community. Cardon served five deployments, two of which were in Iraq. Read the full story.- opens new window

Political science professor John Francis has been elected as a Beaufort Visiting Fellow at Lady Margaret Hall, Oxford University. There he will be working on two projects including an examination of the political recognition question for individuals who live and work in more than one sovereign jurisdiction, as well as researching questions of Health Policy and Human Rights in accordance with crossing borders.

Psychology assistant professor Jeanine Stefanucci was awarded the Excellence in Teaching Award by the prestigious University of Utah's chapter of The National Society of Leadership and Success, Sigma Alpha Pi. Stefanucci was recognized for her ability to inspire students' learning by teaching with heart and passion in her course on Human Performance and Engineering.

The recipients for the 2012-2013 Tanner Fellows of the Tanner Humanities Center have been announced. Congratulations to Mark Button, associate professor in the department of political science. Button presented a research proposal to the Tanner Advisory Board and was awarded a semester in residence in the Tanner Center. There he will be completing work on his next book project entitled: Democratic Vices/ Democratic Souls.

Director of the Master of Public Administration and political science professor Christopher Simon was elected to the National Council of Pi Alpha Alpha honor society. Pi Alpha Alpha is the honor society for students of public affairs and administration and it is affiliated with the National Association for Schools of Public Affairs and Administration (NASPAA).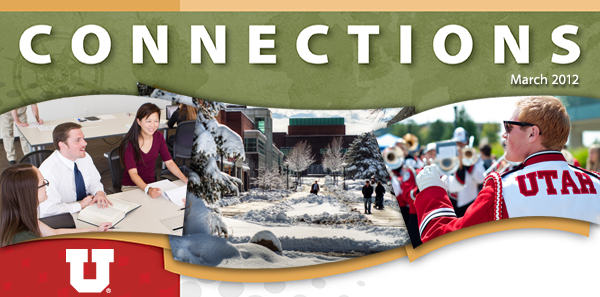 Getting to Know the New Maxwell Chair: Steven Johnston
Since August 2010, the department of political science has been

looking for the right candidate to fill The Neal A. Maxwell Endowed Chair in Political Theory, Public Policy, and Public Service position. It called for a person with a significant record of accomplishment in areas of teaching and research, and whose work explores the relationship between normative political theory and public policy. After much consideration, the position was awarded to associate professor Steven Johnston, formerly of the University of South Florida. Read more about Johnston.
---
Pac-12 Membership Makes Impact
Big things were to be expected with our induction into the Pac12 conference back in July 2011. In the most obvious ways, the Pac12 membership has drastically changed the meaning of athletics for the U. But we have also seen an impact in some of the less obvious areas including academics and economics that the College of Social and Behavioral Science has brought attention to. A recent study conducted by the Center for Public Policy and Administration that made headline news shows that during the inaugural 2011-2012 football season, 210 jobs were generated and over $500,00 of state tax revenue. It estimates that over the next few years, television revenue will bring in $15 million each year for the next three years. In related news, Dean Rudd and Senior Associate Dean Jeffrey Kentor successfully hosted the Pac12 Arts and Sciences Deans Conference on February 23rd and 24th. Deans visited from Alaska, Arizona, British Columbia, Colorado, California, Hawaii, Oregon, and Washington to discuss various topics concerning higher education and athletics. The panel discussions were held at the new Natural History Museum of Utah. Our esteemed guests were also able to visit Red Butte Garden during their visit, and take part in a tour of the campus.
---
2012 "Global Justice" Conference Series Launched
The Barbara L. and Norman C. Tanner Center for Nonviolent Human Rights Advocacy Forum hosted the 2012 "Global Justice" conference from February 22-24th, 2012. The conference focused on the impact of economic globalization—how economic globalization affects living standards and the repercussions of rapid economic growth on social, cultural, and political institutions within nations. It included keynote addresses from Richard Falk (Albert G. Milbank Professor Emeritus of International Law at Princeton University and Visiting Distinguished Professor in Global and International Studies at the University of California, Santa Barbara) and Richard Miller (Wyn and William Y. Hutchinson Professor of Philosophy and Director, Program on Ethics and Public Life, Cornell University), and a roundtable discussion led by Joel Rosenthal (President, Carnegie Council). Full brochure of the conference.
---
Anthropology Film Series
On every Wednesday evening in the month of February, the department of anthropology and the Utah Museum of Fine Arts collaborated together to host screenings of various regional films. The films included: Kundun, Captain Abu Raed, Fast Runner, Creation, and Tambien la lluvia. Before each film, there were museum artworks that set the stage for a discussion on the film by an anthropologist with expertise in the world region. The discussions were then followed by the film screening. More information.
---
Occupying Public Spaces: Panel Discussion Podcast
On February 15th, three distinguished members of political science and sociology gathered together to discuss the Occupy Wall Street Movement that has taken place both nationally and internationally. Those members included professor Steven Johnston, the new Maxwell Chair of political science; political science professor Claudio Holzner; and sociology professor Julie Stewart. Listen to the KUER podcast.
---
Miss Representation Brief
On January 18th, 2012, the College of Social and Behavioral Science held a free screening of the critically acclaimed film Miss Representation that first premiered at the 2011 Sundance Film Festival. The screening was a kickoff to the student campaign, raising money for the Connections Fund—a fund that not only creates scholarships, but also gives opportunities for funding of applied learning project, service learning, and research. After the screening, there were prize giveaways including iPod shuffles and $100 gift cards to the University Campus Store. The kickoff was a tremendous success, with cash and online donations of over $500 raised from students, faculty, and friends. A big thank you goes out to the Women's Resource Center as well as the CSBS student ambassadors for their time and cooperation in making this event possible. Give to the Connections Fund.
---
Student Ambassadors Take Charge
For the past two years, the College of Social and Behavioral Science has gathered a group of students to represent the student population. These students are outstanding representatives in each of their fields of study and are charged with creating more student engagement within the college, on campus, and within the community. They focus their efforts in four areas: student recruitment; community service for CSBS students; creating connections with Alumni to assist CSBS students looking for internships and jobs; and raising the level of student philanthropy. Find out more about each of the CSBS Student Ambassadors.
---
Geography Ph.D. student and NASA team up to take on research in Antarctica
NASA's SEAT: Satellite Era Accumulation Traverse 2011 crew, geography Ph.D. student Clement Miege, and Lora Koenig, who earned her master's degree in geography from the U, left for their second season of research on the snow accumulation in Antarctica. The research, which received funding from the National Science Foundation, consists of extracting ice cores and recording ice penetrating radar profiles to measure the changes in snow accumulation rates across the West Antarctic Stream (WAIS) divide. This information will help predict the Antarctica Ice Sheet's current and future contribution to sea level rise due to climate change. Follow the field team's blog.
---
Army ROTC wins 2011 MacArthur Award
The University of Utah's Army ROTC department, which represents Cadet Command's Fifth Brigade and consists of 36 senior Army ROTC programs in the Southwest, won one of the eight MacArthur Awards for the 2010-2011 school year. The award is based on the achievement of the school's commissioning mission, cadet retention rate, as well their performance and standing on the Commander's National Order of Merit List. The U.S. Army Cadet Command and the Gen. Douglas MacArthur presented the awards. Read more about the award.
---
In Memoriam: Karen Ramey Burns, Ralph Thomson
On December 23rd, 2011, Ralph John Thomson lost his battle with liver disease. Thomson's ties with CSBS were strong and included earning his Bachelor in Science in Political Science, serving as a member of the CSBS Advisory Board Chair, and donating to the CSBS scholarship program. Thomson's obituary in the Deseret News. Anthropology adjunct professor Karen Ramey Burns passed away unexpectedly on January 7th, 2012. Dr. Burns was an internationally known scientist and anthropologist, a beloved member of the CSBS faculty, and a significant contributor to her field. Burns' obituary in the Salt Lake Tribune.