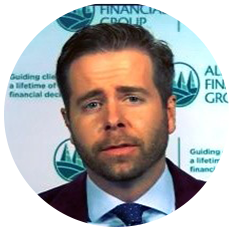 Jason Ware
BS Economics
Partner & Chief Investment Officer
Albion Financial Group
As the firm's Chief Investment Officer Jason guides Albion and their clients through complex and ever-changing financial markets with a rigorous investment approach underpinned by a resolute core long-term philosophy. Jason, and the team of portfolio managers and analysts he leads, build durable evidence-based investment portfolios for clients in service to the financial planning his firm's advisors (CFPs) do on the front end. Truly understanding their clients as unique individuals, each with unique challenges, aspirations, and goals is central to the work that Jason and Albion does on behalf of their clients. Jason also serves as the firm's chief economist, which requires keen awareness and careful examination of the broad economy and important trends. Taken together, Jason's work determines how over one-billion dollars in client assets are invested and managed.
Jason's knack for sizing up good investments, identifying market trends, and thoughtful views on the economy has distinguished him as a recurrent resource for the national press -- frequently quoted in articles from Reuters, The Wall Street Journal, USA Today, American Banker, both The New York & LA Times, and Barron's magazine. He can also be seen as a frequent guest across several flagship CNBC programs, Cheddar, and Yahoo Finance TV, as well as a regular quest on PBS's storied Nightly Business Report. Local press includes Deseret News, and live interviews on KSL TV, KSL NewsRadio, and KPCW.

Jason is also an honored member of Utah Business Magazine's 'Forty Under 40' (2017).
Outside of the office, Jason loves spending time with his wife and two kids; traveling; and staying physically active. An avid reader, and a constant student of the world, Jason enjoys ever-broadening his knowledge base.
In addition to his degree in economics from the University of Utah, Jason also holds a Master of Business Administration from Westminster, where his work was recognized by Delta Mu Delta - an international honor society in business founded at NYU. Prior to joining Albion, Jason worked in news media for CBS and in various professional financial roles.