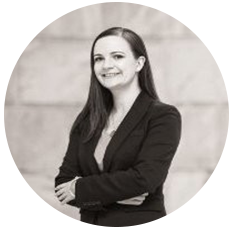 Sarah Starkey
BS Sociology
Vice President & General Counsel
Larry H. Miller Dealerships
Sarah Starkey joined the Larry H. Miller Group of Companies in October 2010 as Staff Attorney and now serves as General Counsel for Miller Automotive Operations. In her role, Sarah provides a broad range of legal counsel to Larry H. Miller Dealerships including acquisitions and divestment, state and federal automotive sales and service compliance, manufacture contracts and compliance, contract review and management, litigation, advertising review, risk management, employment and government relations.
In furtherance of her role as General Counsel, Sarah also sits on the Regulatory Affairs Committee for the National Automobile Dealers Association and is an active member of the National Association of Dealer Counsel. Sarah also leads the newly formed Gail Miller Women's Leadership Group who mission is to inspire and develop women professionals within the Larry H. Miller Group of Companies.
A native of Spokane, Washington, Sarah relocated to Salt Lake City in 2002 in conjunction with her employment as Human Resource Manager and Telephone Center Operations Manager for a local political research firm. In 2005, Sarah earned her bachelor of science in sociology, with a certificate in criminology and corrections, from the University of Utah.
In 2007, Sarah earned her Juris Doctorate, graduating Summa Cum Laude, from Southwestern University School of Law, in Los Angeles, California, and was admitted to practice law in California. Sarah practiced law in Los Angeles specializing in asset protection and wealth management, corporate structure and compliance, employment law, estate planning, real estate and high net worth family law.
Along with her legal work, Sarah is dedicated to supporting the interests of disadvantaged and underserved young girls in her community. In that vein, Sarah sits on the Board of Trustees for the Girl Scouts of Utah, the Road Home, and the Women Lawyers of Utah as well as serving on the Community Service and Government Relations Committees of the Road Home and chairing the Community Outreach committee for the Women Lawyers of Utah. Under her direction the Community Outreach Committee organizes quarterly Lady Lawyer Cooking Nights, benefiting the residents of the Road Home with a warm, home cooked meals, and leads an "outreach" Girl Scout troop providing Girl Scouting to young girls living in the Road Home shelter.