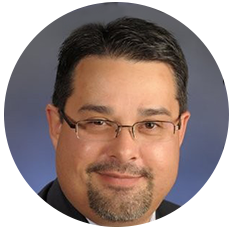 Frank Ulibarri
BS Behavioral Science and Health
Market President
Aetna - Georgia, Louisiana, Alabama and Mississippi
As President of Aetna, Mr. Ulibarri is responsible for leading local markets in Georgia, Louisiana, Alabama and Mississippi overseeing sales, network development, and operations for commercial group, individual and government businesses. He previously served as Chief Operating Officer for Coventry Health Care of Florida, and was later named Aetna Market Executive Director in 2013. In these positions, Ulibarri was responsible for network strategy and development, provider performance and HPN/ACO development, network operations, Health Services including disease management, utilization management, Quality and all other aspects of medical management, Medicaid and Long-Term Care strategy, IVL and Exchange Strategy, and executive leadership; for Aetna of Florida.
Mr. Ulibarri's notable accomplishments include:
Working closely with key provider partners to develop successful High Performance Network (HPN) or ACO-like opportunities in multiple geographies across the state of Florida that resulted in a net membership growth of 200,000 - 300,000 members and approximately 1 billion in annualized revenue.
Providing leadership in the development of an embedded nurse program that resulted in significant improvements in HEDIS results for the Medicare Advantage line of business.
Developing a unique Long Term Care strategy that increased the segment revenue by $300 million after securing awards for multiple regions from Florida's Medicaid Agency.
A graduate of the University of Utah, he holds a Bachelor of Science degree in Behavioral Science and Health (Emphasis in Health Care Administration). He is fluent in Spanish and lives in Atlanta, Georgia with his wife, Angie and daughter, Claire.