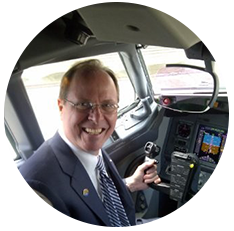 Matthew Moffit
BS Geography
Vice President, Navy Systems
Boeing's National Security and Space Group
Matt Moffit is Vice President, Navy Systems for Boeing's National Security and Space Group. He brings numerous years of Navy operational experience plus military assessments, requirements and budgeting expertise with him.
Moffit joined The Boeing Company after retiring as a Rear Admiral with 34 years of distinguished service. His military career began in 1974 upon commissioning through the NROTC program. He received his Naval Aviation wings in 1976 and has served in numerous training, operations and staff assignments. Additionally, his staff tours include serving on the Chief of Naval Operations and the Commandant of the Marine Corps staffs focusing on aviation programs and associated aviation logistics requirements.
Matt's last Navy assignment was as Director, Fleet Readiness Division, concentrating on assessing maintenance and support requirements and developing the Navy's yearly and future afloat operations and maintenance budgets. His responsibilities also included Marine Corps Aviation operations and maintenance budget development.
Moffit is a decorated combat veteran having flown more than 20 different aircraft and helicopters to include the FA-18 Hornet from airbases and carriers around the world. He has been selected to command six times at the Squadron, Carrier Airwing, Carrier Strike Group and Senior Staff levels.
Matt holds a bachelor's degree in Geography from the University of Utah. He is a graduate of the Navy's Executive Leadership and Strategic Planning courses at UNC's Kenan-Flagler Business School. He and his wife enjoy spending time with their family that includes a daughter and four sons, three of which are currently servicing on active duty in the Navy and Marine Corps. He is an avid golfer and cyclist.