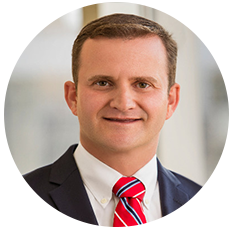 Matt Lyon
BS Economics
Chief Operating Officer
WCF Insurance
Matt Lyon is the Chief Operating Officer for WCF Insurance where he oversees marketing and sales, underwriting, safety and health, IT, human resources, and corporate strategy.
Matt joined WCF Insurance from Farmer's Insurance in Los Angeles California where he was most recently Head of Commercial Insurance Product Management. Matt was responsible for the development and execution of Commercial insurance strategies and initiatives to achieve profit and growth objectives for Farmer's Commercial Multi-Peril, Commercial Auto and Workers Compensation lines of business. Matt had responsibility for Line of Business Product Development, State Product Management, and Premium Audit.
Matt has broad experience in the insurance industry, successfully serving in product management, operations, and strategy roles the past 15 years at, among others Nationwide Insurance and Hartford Insurance group.
Matt received his B.S. in Economics from the University of Utah and his MBA with a Finance emphasis, from DePaul University.