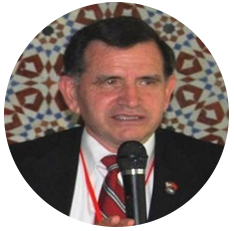 Keith W. Martin
MS Human Development & Social Policy
Honorary Consul
Kingdom of Morocco
Dr. Keith W. Martin was appointed Honorary Consul for the Kingdom of Morocco in Utah in 2011, by Morocco's Foreign Minister, representing King Mohammed VI. He is a member of the Utah Consul Corp. He is an Honorary Member of Association Al Amorabita in Fes, Morocco. He is the former Chief Export Officer for Martin Door Manufacturing. Between 1975 and 2010, he established and trained Martin distributors in over 60 countries in Asia, Middle East, Africa, Europe, North America, Central America, and South America. The late Commerce Secretary Ron Brown presented Martin Doors with the President's E-Award for Excellence in Exporting. He has lived in Utah, California, Washington, England, and Tunisia.
Martin earned his Bachelor's Degree (1971) and Secondary Education Certificate, with a Major in Psychology and a Minor in Sociology, from the University of Utah. While doing his studies in Psychology, he participated in a study of "Run Away Teens" under the direction of Professor Jim Alexander. Martin received his M.Ed. (1972) and Ph.D. Degrees in Cultural Foundations of Education (1975) from the College of Education. He lived with his family in Tunisia while he completed the research for his Doctoral Dissertation on the Reformation and Secularization of Education at the Grand Islamic Mosque Zaytuna, which was established in 732 AD. He completed his research using English, French and Arabic sources.
Martin has held many positions in the community. He has been an Adjunct Professor of International Marketing at the University of Utah and Salt Lake Community College, Director and Vice President of the World Trade Association, an Advisory Board Member for the U of U Middle East Center, a member of the Governor's Middle East Working Group. a member of the International Advisory Council for the Business College of Salt Lake Community College, and Vice President of The American Institute of Arabic Studies under the direction of Dr. Sami Hanna. He is currently serving as a member of the University of Utah College of Education's Advancement Board.
Martin has lectured on international marketing throughout the state and in Morocco. He was the keynote speaker for Snow College's International Lectures. He was a guest lecturer for the CPA Association of Utah, The Department of Commerce, University of Utah, Utah State University, Brigham Young University, Westminster College, Utah Valley University, Salt Lake Community College, the Salt Lake Area Chamber of Commerce, the Lions Club, the University of Mohammedia-Casablanca (Morocco), and several associations and educational institutions. He has also been a guest lecturer on the Amazigh Culture at the Amazigh Festival in Fes, Morocco since 2011.
As Honorary Consul for the Kingdom of Morocco, a position to which he was named in March, 2011, Martin's three goals are: 1) Increase cultural awareness in Utah of Morocco, the first country in the world to recognize the free American colonies in 1777, 2) Increase trade between Morocco and the State of Utah, and 3) Help Utahns to have a cultural experience with Morocco.
Martin and his wife Trisa are the parents of six and grandparents of six. Five children graduated from the University of Utah and one graduated from Utah State University.