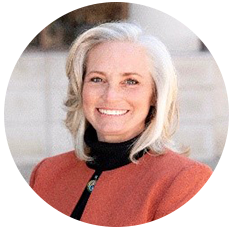 Melissa Freigang
BS Human Development & Family & Consumer Studies
Executive Director
Weber Prosperity Center of Excellence
Melissa Freigang is the founding director of the Weber Prosperity Center of Excellence. The Center is unique, the first of its kind. It is a department of Weber County in partnership with the Weber-Morgan Health Department and Weber Human Services. Melissa blends her 25-years of experience in operational excellence with her expertise in human development, family resilience and intervention design to address the county's most complex social challenges. To achieve the Center's mission, Freigang leads interdisciplinary teams made up of representatives from agencies across industry, education, non-profits, economic development, government, health and behavioral health systems. She leverages their expertise and leads community engagements to achieve common goals. Freigang identifies root causes to the region's growing social challenges, unites stakeholders to eliminate agency silos, and implements human-centered designed strategies to benefit all Weber County residents, resulting in a thriving, resilient community.
The Center's focus is to bring new ideas, innovation and data-driven solutions to social problems resulting from intergenerational poverty, homelessness, housing affordability and availability, recidivism, workforce shortages, and gaps in the social determinants of health. While Utah leads the nation addressing intergenerational poverty (IGP), Weber County is the only county of the original 11 identified by Governor Cox that continues to implement an IGP plan. The Integrated Community Action Now or ICAN solution has resulted in significant increases in child health and well-being and family resilience. With ICAN, the County is empowering families and children to break the generational cycles of poverty by increasing their social capital. The impact of ICAN has been immediate and will continue to yield benefits for generations to come.
To further the Center's IGP work, Freigang's team implements the Weber County Housing and Homelessness Strategies and guides the Weber-Morgan Local Homeless Coordinating Council. The Center unifies community prevention efforts with evidence-based practices and builds the capacity of Weber County's five Communities That Care coalitions. Prevention science is fully integrated into all aspects of the Center's work moving solutions to an upstream, proactive focus. Freigang brings decades of experience to the Center directing government grants and building strategic community partnerships.
Freigang continues to bridge the gap between policy and practice. She is the Co-Chair of the Governor's Commission on Women in the Economy, Co-Chair of the Utah Alliance on the Social Determinants of Health, founding member of the Utah Child Care Cooperative (UC3) and leads the Weber County Welfare Reform Commission. She also serves on multiple non-profit boards including the Salvation Army, Ogden Civic Action Network (OgdenCAN) and the United Partnership Council.
Freigang holds a bachelor's degree in human development, family consumer studies from the University of Utah, a master's degree in organizational leadership from Gonzaga University, and post-graduate certifications in workforce development, strategic planning, leadership, peer mentoring, and operational excellence. She is a former US Senior National Team member, three-time NCAA All-American and member of two NCAA Division I National Championship gymnastics teams at the University of Utah.